Dad Shares Heartbreaking Story About The Dangers Of Button Batteries
by Valerie Williams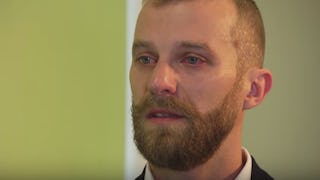 Image via YouTube
He's educating others about this common household hazard
Babies and toddlers are equal parts busy and curious. They get into everything, which makes child-proofing incredibly difficult. It's simply not possible to catch every hazard, and that's why one grieving dad is speaking out about a danger found in almost every home in order to prevent another family from losing a child.
Through tears, George Asan tells the heartbreaking story of his 2-year-old daughter Francesca's tragic death — and how he hopes to stop the same thing from happening to other children.
The toddler swallowed a button battery, but didn't die from choking. The battery corroded inside of her resulting in internal bleeding from the burning caused by the battery mixing with bodily fluids. Asan made the video with the Child Accident Prevention Trust (CAPT) to help educate other parents about this hazard that some might not realize is so prevalent.
Ashley Pugh, Clinical Team Lead for the Fleet and Yately Health Visiting Team, says button batteries are far more common than we think. After detailing the horrific internal injuries a child swallowing one of these tiny batteries can suffer, Pugh points out the many household items they can be found in.
From key fobs and remote controls to watches, children's toys and musical greeting cards, it would be hard to find a family that doesn't have at least one button battery in their home. CAPT's Kristin McCarthy demonstrates in the video how easily a button battery found in a baby thermometer is exposed and removed. She notes that a parent might leave the thermometer on the changing table where a child could find it.
It's terrifying to think how easily this could happen, but education is key in preventing it, as Asan realizes.
"It is very hard for me to talk about losing Francesca. I feel guilty. Unfortunately, we didn't see anything wrong, no signs," he says. "We found that it was a button battery and straight away I went to the cabinet and we had the 3D glasses for the TV. It was one of the spare batteries, in the original box of the glasses, which was in another box."
"What happened to Francesca proved that you can't always be around," Asan says. "You can't have eyes everywhere. You can't take that basic freedom of exploring from a toddler. That makes them a toddler."
The CAPT website further explains the dangers of not just internal injury in the stomach, but the throat. "If a button battery, particularly a lithium button battery, gets stuck in the throat or gullet, energy from the battery can react with saliva to make the body create caustic soda. This is the same chemical used to unblock drains. This can burn a hole through the throat and can lead to serious internal bleeding and death. The reaction can happen in as little as two hours."
CAPT warns that there might be no symptoms after a child ingests a button battery. "They may appear to have a stomach upset or a virus. The lack of clear symptoms means it may not be obvious that your child has swallowed a button battery until it's too late. This is why it is important to be vigilant with spare button batteries in the home and the products that contain them."
For Asan, it's the memory of Francesca and the pain of losing her that has him on a mission to prevent more kids from dying this way. "She was full of life," says the dad, who described his daughter as "adventurous, extremely happy…perfect."
As parents, we're nothing but grateful that he's bravely sharing his story to save others from experiencing what his family is going through.
If your child swallows a button battery, CAPT has information to guide you in the next steps.
This article was originally published on