Experts: No, You Absolutely Should Not Lie To Get Your Too-Young Kid Vaccinated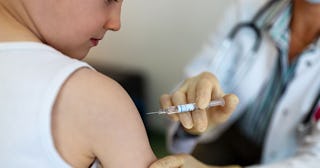 Luis Alvarez/Getty
Reports are surfacing of parents lying to get COVID-19 vaccines for their underage kids
Currently, children under 12 do not have an FDA-approved COVID-19 vaccine, but with the opening of schools and the skyrocketing COVID-19 hospitalizations in minors, apparently, some parents are bending the rules and sneaking their children under 12 into COVID-19 vaccine clinics and lying about their age to get the shot. Based on reports of this actually happening, the FDA had to release a statement that no, you should absolutely not lie to get your too-young kid vaccinated.
Some parents are lying to get their underage kids vaccinated against COVID.
It's nearly impossible to track how many children under 12 are receiving "off label" COVID-19 vaccines as they are having to conceal the truth about their actual age, but as several outlets have reported, it's happening. One woman, using a pseudonym, even spoke to Slate about taking her 11-year-old son to get vaccinated before the start of the school year and witnessed another family getting their 10-year-old daughter vaccinated at the same county-run vaccine site. Additionally, in Ontario, Canada, the Pfizer vaccine is available to all children born in 2009 or earlier, which would include 11-year-olds who will turn 12 before the end of this year, leaving many Americans wondering why they can't just take it upon themselves to get their 11-year-olds vaccinated too.
While we totally understand the urge to get the shot for your almost 12-year-old kids, the FDA stresses that the dosage for children under 12 may not be the same as the "adult strength" doses that are currently on the market.
On Friday, September 10, 2021, Janet Woodcock, the Acting Commissioner of Food and Drugs at the FDA and Peter Marks, the Director at the Center for Biologics Evaluation and Research, put out a joint statement telling any parent who is considering sneaking their 11-and-a-half year old into a vaccine site to wait until the FDA approves an actual vaccine for children that age.
"Parents need to remember that the vaccine doses that are currently being studied in younger children are not necessarily the same vaccine doses that were authorized for individuals 12 years and older or approved for individuals 16 years of age and older –there are different dosing regimens being investigated," Dr. Woodcock and Dr. Marks wrote in the statement.
Dosage strength is a huge reason why the clinical trials for children's COVID-19 vaccines are ongoing as researchers are still trying to get the dosage right.
So when will there be an approved vaccine for kids under 12?
Dr. Woodcock and Dr. Marks are asking the public to be patient with the vaccine manufacturers. "We cannot offer a specific date or timeline for when it may be completed for the various manufacturers' vaccine candidates, we can assure the public we are working as expeditiously as possible to meet this critical public health need and we very much hope to have pediatric COVID-19 vaccines available in the coming months," they added in their statement.
On the other hand, former FDA Commissioner Dr. Scott Gottlieb — who serves on Pfizer's board of directors — said the company could have a vaccine available for the under 12-set before Halloween, which is an extremely ambitious timeline.
At this point, the FDA knows how hard this is and they understand the frustration, but right now the big ask for parents is simply to be patient.