This Picture Of North West's Closet Will Make You Wish You Were A Rich Toddler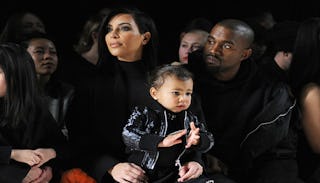 NEW YORK, NY - FEBRUARY 14: (L-R) Kim Kardashian, North West and Kanye West attend the Alexander Wang Fashion Show during Mercedes-Benz Fashion Week Fall 2015 at Pier 94 on February 14, 2015 in New York City. (Photo by Craig Barritt/Getty Images)
Kim Kardashian shares a picture of North West playing in her closet
Kim Kardashian posted a picture late last night to her Instagram feed that was simply captioned "It's gonna be a long night." It was an image of her daughter North in a princess dress, sitting amongst a pile of toys in what looks to be the little girl's own walk-in closet.
Two things: 1) it's good to know someone else's child also never sleeps and 2) this closet. A row of tutu's? A Minnie Mouse princess costume? A Hello Kitty suitcase? Who wouldn't want to own this stuff?
It was shocking to see that no sanctimommies had yet to descend on the comments to scold Kim for having her child up late. I was sure there would be at least a handful. Then again, the image has been up for less than half a day, so there's time. The bedtime sanctimony is a point of contention for me, because my kids don't sleep.
Okay, it's not that they don't sleep, it's just that on many random occasions they will be up into the night and I'll be left questioning all my parenting choices: specifically, why I didn't sleep train. I was the wimp who couldn't stand the cries of my small child, and now I'm paying for it. At least once a week my kids are up until ungodly hours. My smug friends who I used to make fun of for being so particular about their baby's schedule are not watching adult TV without kids climbing all over them at 8pm, and I'm — well, let's just say I'm not.
It's a parenting fail. I accept that.
Clearly Kim didn't sleep train either. Or she's just letting North have a little party for the heck of it. Or she's been hiding in the closet since her husband's embarrassing Twitter rant this week. Really, the possibilities are endless.
All I know is, this child is adorable and I kinda want her closet.
This article was originally published on