A Look At Kim Kardashian's CBD-Themed Baby Shower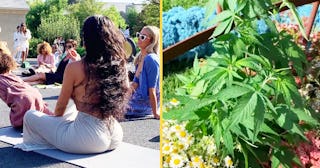 KIm Kardashian via Instagram
Kim Kardashian never fails to deliver on a themed event
There are many, many things Kim Kardashian does well. Among them, theme parties. The reality star goes all out when it comes to throwing a bash that perfectly fits a theme, and her weekend baby shower was no exception. To help calm her nerves about being a mother of four young kids, Kardashian threw a CBD-themed bash, and every detail was perfectly on point.
Kim documented the entire event on her Instagram stories, where you could see that every, tiny detail perfectly fit the chosen theme. And the theme, as many stressed out moms will agree, was perfect for a baby shower for your fourth kid in five years. If anyone needs a little CBD in their life, it's someone who has a five-year-old, a three-year-old, a one-year-old and an infant on the way.
"I thought it was kind of ridiculous to have a fourth baby shower. But I thought, 'I'm freaking the fuck out having a fourth kid,' … So everyone have a puff and put on some oil," Kardashian said in one attendee's video that was posted to Instagram. Hey, we get that.
Kardashian and her husband, Kanye West, are expecting the arrival of their fourth baby, a son, pretty much any day now. He'll join their daughters, North and Chicago, and son, Saint. That's four kids under five, if anyone's counting.
From the moment guests arrived, they were met with all kinds of activities centered around the CBD theme, done in the spectacular fashion that one would expect from Kim Kardashian West.
Party favors included all kinds of CBD-infused oils and toiletries.
If guests weren't into the ones that were available pre-mixed, they could create their own infused oils, perfumes and more, with a professional helping everyone get the right mixes.
At a craft station, guests could add their own scent mix to a jar of CBD-infused bath salts, guaranteeing the most relaxing soak you'll ever have in your life.
And the main event was a guided group meditation session, where everyone gathered on yoga mats around Kim as she gave a short speech before she joined them on the ground to "zen out," as she put it.
The meditation came with a sound bath, which is when gongs are hit in specific rhythms and the sound waves that wash over your body are supposed to help with meditation.
Clearly, the day at Spa Yeezy was a success, with famous names like Chrissy Teigen, Paris Hilton, Larsa Pippen and others in attendance. Hopefully everyone got as chill and calm as they were hoping to get, though with the vast array of CBD products on offer, we're pretty sure they did.