Kim K Says She Got COVID From Her Son, Not From Island B-Day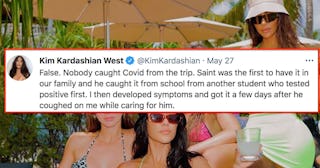 Kim Kardashian Instagram/Twitter
Kim Kardashian refutes a report about her island birthday and her COVID diagnosis
Today in "how soon after Kim Kardashian hosted a giant party on an island during a pandemic did she test positive for COVID-19" news, Kardashian — who opened up about being diagnosed with COVID-19 in a new episode of Keeping Up With The Kardashians — shoots down the rumors that she tested positive for the virus after flying her friends and family out to a private island in October 2020, saying she tested positive after contracting the virus from her son, Saint, who she says got it at school.
In the latest episode of KUWTK, Kim reveals that her son Saint tested positive for the virus in early November and she believes he contracted it at school. Kim shares that she and North started to show COVID-19 symptoms too and then a title card appears onscreen that says that "Kim and the family tested positive for COVID" and went into a two-week quarantine shortly after the scene was shot.
Honestly, I didn't know schools were open in California in October 2020, but I guess private schools can do whatever they want? Regardless, this is probably why a Buzzfeed reporter did a deep-dive on Kim's COVID-19 timeline and discovered that while Kim may have very well have caught the virus from her son, she also tested positive for the virus ten days after returning from her 40th birthday celebration where she flew all her friends and family out to a private island in the middle of a pandemic. If you remember, she was promptly roasted for it.
Buzzfeed never claimed that Kim "caught COVID" on her vacation, only that she tested positive for it 10 days after the trip ended.
However, Kim took to Twitter to deny that she got the virus at her birthday bash.
"False. Nobody caught Covid from the trip," Kim tweeted. "Saint was the first to have it in our family and he caught it from school from another student who tested positive first. I then developed symptoms and got it a few days after he coughed on me while caring for him."
During the episode, Kim revealed how terrible her COVID symptoms were and that she was dealing with it while studying for the "baby bar exam" as she continues to try and become a lawyer.
"I'm feeling pretty shitty," Kim reveals in selfie videos she shot herself while the family was in quarantine. "We're supposed to do 12-hour study sessions every day leading up to the test, but I've been feeling so awful with COVID that I can hardly get out of bed. I'm feeling extremely achy, I have the worst back pain, I'm so tired, I have a 104 fever."
Kim later tweeted that it was "so insane" to have four kids with COVID.
During the episode, Kim's sister Khloe Kardashian, who contracted the virus at the beginning of the pandemic, called Kim as she was sick and studying to say that the virus left her with the worst "brain fog."
Unclear if Kim passed the November 2020 baby bar exam, but it seems like she and her kids have recovered from the virus and are doing just fine.