Kim Kardashian Defends North After Trolls Accuse Her Of Faking Her Art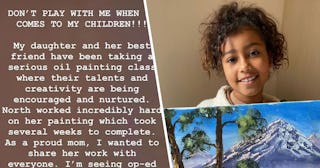 Kim Kardashian/Instagram
Kim Kardashian is coming to her daughter's defense after trolls refused to believe in North's painting skills
There are so many things to criticize about the Kardashians. How about their tone-deaf flaunting of their riches? Their partying during a global pandemic? Pick one, but there's something people should really stop criticizing: Their young kids. It happened this week, after Kim Kardashian posted a photo of her 7-year-old daughter North West's oil painting. Really, guys? We're going to come at them for something as innocent as a young child's art?
Like, truly, why would anyone come for a little kid over their art work?
Look at that smiling girl with her painting! It looks great! But this is the internet, so naturally we can't just recognize that fact.
The number of people who decided to take time out of their day to come to the internet and accuse Kardashian and little North of faking this work of art was more than a little bit gross.
https://twitter.com/jetpack/status/1359272519669338112https://twitter.com/jetpack/status/1359293888662503426https://twitter.com/jetpack/status/1359240191437922306
So of course, because she's a mom, Kardashian came to her daughter's defense. She posted a series of Instagram stories with screenshots of the things people were saying, and corrected them.
She also posted a lengthy statement calling out the haters directly.
"DON'T PLAY WITH ME WHEN IT COMES TO MY CHILDREN," Kardashian wrote. "My daughter and her best friend have been taking a serious oil painting class where their talents and creativity are being encouraged and nurtured. North worked incredibly hard on her painting which took several weeks to complete. As a proud mom, I wanted to share her work with everyone. I'm seeing op-ed pieces in the media and social media from grown adults breaking down whether or not my child actually painted this!"
Kardashian continued, "How dare you see children doing awesome things and then try to accuse them of NOT being awesome? Please stop embarrassing yourselves with the negativity and allow every child to be GREAT!"
If North has been taking painting lessons, it's not even really surprising that she could paint this, though it's certainly impressive for someone her age no matter what. Anyone who's ever been to a Paint and Sip class knows that with good instruction, most folks can paint something that looks good. North's piece is much better than that, but she worked on it for weeks, so of course it is! Plus, it's glaringly obvious that the kid has talent for art.
In conclusion, we look forward to seeing North's work in museums someday, and all the haters should find something better to do with their lives. Go off, Kim Kardashian. Show off how talented your little girl is.
This article was originally published on