Kim Kardashian Felt Like A 'Failure' & 'Loser' When Her Marriage Ended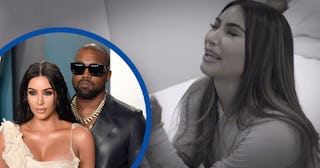 Keeping Up With The Kardashians/Youtube and Karwai Tang/Getty
The Kardashians have wrapped their final season of the show that lasted 20 seasons
If you're a fan of Keeping Up With the Kardashians, you know the show is coming to an end after 14 years and 20 seasons on air. In a clip of the show, we see the family come together for one last lavish vacation (on camera, that is). Knowing now what we know about Kim and Kanye's marriage and divorce makes watching her sadness unfold pretty heartbreaking.
If you've been through a tough breakup or divorce, hearing some of Kim's words about her relationship ending will sound familiar. During the clip, sister Khloe explains, after Kim said she wants to go into her bedroom "and never come out," that things with Kanye have reached a breaking point. She's been "struggling privately behind the camera about her relationship," and had a "huge fight" with him before they left. She's "redirecting her sadness, anger, and frustration," her sister said.
The clip then shows previous footage of Kim talking about their relationship where she's sobbing to her sisters, saying, "I do think he deserves someone that can support his every move," referring to her not being able to travel with him to Wyoming and other events. "I can't do that," she cried. "He should have a wife that supports his every move and travels with him and does everything and I can't."
She also said she feels like a "failure" and a "loser" for being on the brink of her third divorce. She's previously been married to music producer Damon Thomas and basketball player Kris Humphries. Together, she and Kanye are parents to four children, North, Saint, Chicago, and Psalm, making their breakup even more heartbreaking.
"I feel like a fucking failure, that it's like, a third fucking marriage," Kim said. "Yeah I feel like a fucking loser. But I can't even think about that like, I want to be happy."
There is still so much stigma around divorce even though nearly half of marriages end. It's difficult, especially when kids are involved, to terminate a family unit, even if things remain amicable after the divorce. There are so many emotions and "if I'd only done this" scenarios that you play in your head, but at the end of the day, if you are miserable, you have to do what's best for you.
"I honestly can't do this anymore," she continued. "Why am I still in this like, place where I'm stuck for years? Like, he goes and moves to a different state, every year, I have to be together so I can raise the kids, you know? And he's an amazing dad, he's done an amazing job."
We know now the pair finally called it quits and hopefully have begun healing the pain that comes with a marriage ending. The final season of KUWTK began airing in March and will wrap later this year.