Kim Kardashian And Her Kids Dressed As The Flintstones And We Can't Even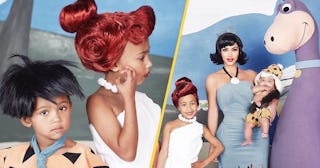 Kim Kardashian/Instagram
Kim Kardashian, Kanye West, and their kids slayed as the Flintstones family on Halloween
On Halloween, Kim Kardashian West positively delighted fans with her spot-on Elle Woods costume — and accompanying Harvard Admission video essay, naturally — but it was her family costume with husband Kanye West and kids, North, Saint, Chicago, and Psalm that has us wishing it was Halloween every day. The crew dressed as characters from the Flintstones, and every single one of them looks the part.
Not only did the family absolutely nail their group costume, they also kept things extremely real when it comes to involving toddlers in a photo. In a series of pics she posted this morning, Kim shares a little behind-the-scenes tidbit that every parent of a young child will understand. "This family pic was such a challenge because Chicago was so scared of Dino!" Kardashian West writes. "LOL We tried to explain and show her that it was just daddy but she didn't get the concept yet! So shout out to the photographer for editing her in & making our family Flinstones dreams come true!"
See? Even one of the most famous women in the world can't stop her toddler from being totally stubborn and fussy to the point of derailing her carefully-crafted plans. However, you'd never know she was edited in after the fact — little Chicago looks natural as can be dressed as Pebbles. She was placed next to brother Saint, who is the cutest Fred we've ever seen, and North is a picture-perfect Wilma Flintstone. Kim played a very sexy Betty Rubble, and Kanye was (an apparently terrifying-to-toddlers) Dino. Baby Psalm dressed as Bamm-Bamm, and his chubby arms and legs are making our ovaries burst.
This is basically a genius family costume, though there's no Barney Rubble, and we find it pretty hilarious that Kanye went as the family's dinosaur pet instead of Betty's husband. The lengths dads will go to get a laugh.
North and Saint's poses are so perfect we briefly forgot they're only six and three, respectively. These kids are seasoned pros thanks to their always camera-ready momma.
This mother-daughter shot of Kim and North belongs in a frame immediately.
And it looks like with scary Dino out of the frame, Chicago did just fine with her mom and smiling older sister.
This isn't the first time Kim's gotten very honest about the horrors of trying to capture a family photo with toddlers in the mix. After third baby Chicago came along, she shared the Kardashian West clan's first photos as a family of five — and how hard it was to get them. "I don't think you really understand how hard it is to take a good family pic," she wrote. "This was all we got before all three kids started crying. I think I cried too."
Oh, Kim. We 100 percent understand, which is why we'll take a photoshopped Chicago West with smiles. You did your best and it was more than enough.