Kim Kardashian's New Pic Of Baby Psalm Will Make Your Ovaries Ache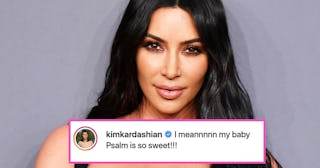 ANGELA WEISS/Getty and Kim Kardashian/Instagram
The reality star's latest snap of her newest babe is all sorts of smiley cuteness
It doesn't matter if you are a mother-of-one or several littles. When most of us see a photo of a totally freakin' adorable newborn we get that feeling in our ovaries. I mean, is there anything more delicious in the world than the sight — or even better, smell — of a newborn? I'll answer that for you. Nope. Kim Kardashian West has seriously been doing a number on us with the latest addition to her family, and we are feeling the ache down there like it is nobody's business.
Yesterday, the reality star took to social media to share the first photo of baby Psalm West in about a month, all happy and smiling, and we simply can't handle it.
"I meannnnn my baby Psalm is so sweet!!!" Kardashian West captioned the image of her super-smiley two-month-old.
In addition to the over five million people who liked the photo, the reality star's family members were also drowning in cuteness after seeing the latest snap of their nephew. "What it do babbbyyyyyy," wrote Kendall Jenner. "Little tiny goose bunny," added Kourtney.
The "Keeping Up With the Kardashians" star welcomed the little nugget, her fourth baby with husband Kanye West, via a surrogate in May, and has (very) slowly been rolling the ridiculously sweet photos out since.
Kim shared her first close-up photo of Psalm on Instagram just last month, and it was pretty darn cute as well. The youngest member of their family was snapped deep in newborn slumber, with his head resting on his little hand-mitted paws.
About a week later, she let us experience a special moment between her boys. "My boys," she captioned an incredibly sweet snap. In it baby Psalm is getting all sorts of love from his older brother, Saint, staring right into his adorable, smoochable face and owning his big brother status like a boss. Be still our hearts.
While being a mother of four is no easy feat, Kardashian and West are totally grateful for their adorable clan. "It's madness, but the best madness," Kardashian revealed to the New York Times before Psalm was born.
"My mom would always say about having kids: 'One is like one, and two are like 20.' I never really understood that until now," Kardashian said after son Saint was born. "When I had North, all I did was feed and sleep. This time around, I get no sleep. Every waking second that I'm not with the baby, I'm with North. I actually think the harder parts aren't with the newborn but with the toddler! I feel like I go into overdrive to give my daughter attention and make her feel loved."
Keep the cuteness coming, Kim. There is no such thing as over-sharing — when it comes to your adorable kids, at least.