Kanye Was Super Shamey About Kim Kardashian's Met Gala Dress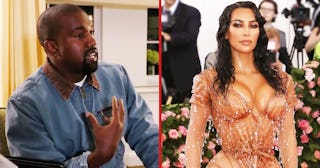 E! and Taylor Hill/FilmMagic
In a recent episode of KUWTK, Kim Kardashian and Kanye West get into an argument about her Met Gala dress
Earlier this year, Kim Kardashian attended the Met Gala in a dress that garnered a lot of talk — one, because it's Kim and everything she wears makes waves, and two, because the corset she had on underneath her dress made her body appear to defy actual human proportions. Whether she was comfortable or not, she looked amazing. Unfortunately, her husband Kanye West had a problem with how "sexy" it was.
In the most recent episode of Keeping Up With The Kardashians, we get a behind-the-scenes glimpse into the entire dress process — including the part where Kim has to practice breathing a certain way just to wear the corset all night. Basically, the entire look — designed around the 2019 theme of "camp" — took a lot of thoughtful planning for Kim, who admits in the episode she had anxiety about the whole event.
You know what doesn't help a woman's anxiety? When her husband admonishes her carefully crafted look for the biggest night in fashion. Which he did. Even though he's spent years publicly gushing over his wife's sex symbol status.
Kanye felt it was "too sexy" and proceeded to pontificate exactly how her look made him feel. (Why are men?)
The worst part is that when the final fitting was all said and done, you can see how happy being in that dress (and even the torturous-looking corset) made Kim feel. And then her husband more or less took a big, defeating dump all over it.
"The corset, underwear, all of that vibe, I just feel like I went through this transition from being a rapper, looking at all these girls, and then looking at my wife like, 'Oh, my girl needs to be just like these other girls, showing her body off, showing this, showing that," Kanye tells her.
"I didn't realize that that was affecting my soul and my spirit as someone that's married and loved, the father of what's about to be four kids," he continues. "A corset is a form of underwear. It's hot. It's like, it's hot for who though?"
Uh, well Kanye, for Anna Wintour and the entirety of the Met Gala attendees. Plus literally everyone who enjoys the red carpet photos. Oh, and also herself, maybe? That's who it's for. Thankfully, Kim isn't here for any of it. She immediately put her husband in his place, calling him out for contradicting himself when it comes to supporting her as she embraces her sexiness.
"You knew last night that I was having really bad anxiety, and I don't need any more negative energy for you to now say that you're not into me wearing a tight dress," she tells him. "You built me up to be this sexy person and have confidence and all this stuff, and just because you're on your journey and you're on a transformation, doesn't mean that I'm in the same spot with you."
People of the internet were largely supportive of Kim, with some of them making note of Kanye putting his wife in his "Bound 2" music video a few years ago — where she appeared topless.
https://twitter.com/jetpack/status/1184201211546877954https://twitter.com/jetpack/status/1183793029401870347https://twitter.com/jetpack/status/1183705203347984385
The good news here is Kim ignored her husband's last-minute negativity and ended up wearing the dress she worked so hard to put together, regardless of what her husband said. And she looked freaking fabulous in it.