North West Is So Freaking Over All The Photos Her Mom Takes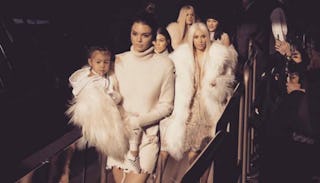 Kim Kardashian is the selfie queen, but if this video is any indication, little North will not be following in her footsteps. Thank God. No one needs that many selfies.
No one.
Last night Kim K posted a video to her Instagram account of her second favorite person to take and share pictures of: her daughter North. Kidding! She's a mom. Her kids are definitely her favorite subjects. They may just not share her affinity for the camera.
North was rolling around under a fur coat (as one does) when her mom pointed a camera in her direction — and took this video:
NO!
No pictures!
Seriously, Kim. Enough already. Even your two year old realizes you have a problem.
Here's the part where I admit to watching a marathon of Khloe and Kourtney Take Miami during a particularly dark time in my life. There was this episode where Kim came to visit. And Khloe was all sad because Kim never paid attention — to anyone apparently. It was pre-kids: I'm sure she occasionally looks up from her phone now. But on that particular episode, she seriously wouldn't put down her phone. Have you ever really thought about the logistics of getting that many selfies? It takes time. And work. Add a few children to the mix, and can you even imagine what this woman's photo library looks like? Hundreds of thousands of pictures probably. And a lot of phone time.
And you thought your kids were annoyed with you snapping photos of them all day long.
One thing is for sure: this little girl is adorable — and adored by her camera-phone toting mom. And now Kim has an excuse like the rest of us for not putting down her phone all day: the things kids do are just too damn cute to miss.
This article was originally published on