Kim K Posts Photo Of North West In A Fur Coat And Pisses Off The Entire Internet
by Ashley Austrew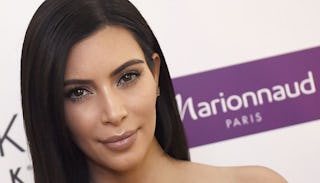 North West has a fur coat, and the internet is not happy about it.
Another day, another chance for a Kardashian to make the internet explode in vitriolic rage. This time, it's for little North West's recent playground outfit, which included a ridiculously expensive fur coat.
Kim Kardashian posted the photo of her 2-year-old daughter late last night. In it, the little girl is wearing white jeans and a pink hoodie, a pink baseball hat, white sneakers, and sucking on a lollipop. Draped over her entire ensemble is a coat that Elle magazine says is made of crystal fox fur and retails for $3,500. Kardashian captioned the photo simply, "Swag."
Since the photo went up only seven hours ago, it's already amassed over 2,000 shares and has almost 5,000 comments. A few of them are sweet comments about how adorable North is, but the majority are taking both Kim and her daughter to task for wearing fur, being spoiled, looking "ridiculous," and a whole host of other nasty insults. Check some of these out:
Wrapping your kid in dead animals is so chic! And then letting her suck on sugar! Mother of the year!
Ridiculous!!! That skank Kim is creating a little self centered narcissist monster like herself!
She looks like a boy without the jacket, and jacket is too much for a 2 year old, Kim get her a Chanel dress instead! With a beautiful hair do, feminine shoes, I MEAN DRESS HER LIKE A PRINCESS!!!! That taste from your husband is horrible!
Despicable! Their daughter is going to grow up and feel she is "Entitled" Have fun with that one! You will end up with a monster, not a respectful, intelligent, fun daughter.
Makes me sick…. Animals had to die just so this spoiled little brat can "look good."
North's coat may be a bad choice, but keep in mind these comments are talking about a child. Hundreds of people are railing on about the treatment of animals while posting on the very permanent internet that a two-year-old is a monster, spoiled, a brat, despicable, and looks like a boy. And, that's not even counting the horrible things they're saying about her parents and the rest of her family — things she'll probably be hurt by someday because kids love their families, regardless of what anyone else thinks about them.
Yes, the Kardashian-West family are in the public eye, but that doesn't mean the public get a say in every aspect of their lives. Even famous parents are still free to dress their kids however they wish, and it's ridiculously unfair to tear a little girl to shreds just because you disagree with some of her mom's choices. Love the Kardashians or hate them, we have a responsibility as parents and as human beings to be a little bit fucking nicer and not take our frustrations out on innocent kids.
(Feature image: Loic Venance/Getty)