Kim Kardashian Defends Her Pregnancy Shapewear Line After Backlash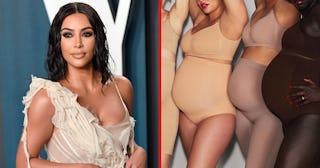 Karwai Tang/Getty and Skims/Instagram
Kim Kardashian was met with swift backlash for her line of maternity shapewear — and some support from model and friend Chrissy Teigen
Over the weekend, Kim Kardashian introduced her new line of maternity shapewear from her SKIMS label. She debuted the brand last year to much praise for its size-inclusivity, but later dealt with backlash over the brand's initial name, which she changed. Now, there's fresh controversy surrounding her label as women debate whether pregnant moms should even be made to feel they need "shaping" during pregnancy.
"What you've been waiting for: @SKIMS Maternity is coming soon! Introducing Maternity Solutionwear™ that offers the best in comfort and support for your changing body during and after pregnancy," she captioned her post debuting the line.
https://www.instagram.com/p/CFCtrEQAyuK/?utm_source=ig_embed
Kardashian says the items launch this Wednesday and come in 9 colors and in sizes XXS-5X. An impressive and diverse collection to be sure. Chrissy Teigen was an immediate cheerleader for the product.
But just as quickly, a voice of dissent appeared too as frequent Kardashian critic Jameela Jamil weighed in.
"I wish we could just Normalize just focusing on the inside of a pregnant body, not the outside. You don't need your shape corrected or hidden. You don't need an even more awkward obstacle between you and a piss. You just need to try and ride with this miracle and do your best to be as happy/comfortable as is possible within your circumstances. Pregnancy is hard enough, with enough worries already," she posted on Instagram.
Plenty of folks agreed with Jamil's take.
https://twitter.com/jetpack/status/1305200674666196994
So Teigen chimed in again with her support.
So Kardashian herself took to social media to defend her line saying it's "not to slim but to support."
She even noted that many pregnant women had reached out asking for this type of product.
"I am incredibly proud to provide a solution that will provide comfort and support during the times that we all need it most," she said.
Teigen again took to Instagram Stories to defend the line saying, "It is not at all about making pregnant women feel like our bodies aren't beautiful and miracles."
"We know that's true," she said. "We're very happy to be pregnant. We don't think that these are making us feel like we can't look like ourselves. We don't think that," Teigen continued. "None of us think that this is making us smaller," she added. "We do it so we feel high and tight and honestly it feels easier to get up, it feels easier to move around."
This article was originally published on