Kim Kardashian Renames Shapewear Brand After 'Kimono' Backlash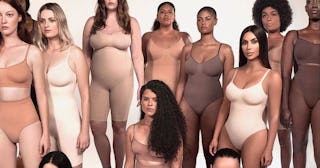 Kim Kardashian/Instagram
Kim Kardashian listened to feedback about the name of her shapewear brand and took action
After experiencing major backlash for her choice to name her upcoming shapewear brand Kimono, Kim Kardashian West has announced she has come up with a new name. The reality star, business mogul and mother of four ridiculously cute kids revealed on Monday that her body-skimming shapewear line is going to be called SKIMS, also releasing new promotional images from the collection.
"My fans and followers are a huge inspiration to me – I'm always listening to their feedback and opinions, and am so grateful they shared their ideas for a new brand name. After much thought and consideration, I'm excited to announce the launch of SKIMS Solutionwear™ coming September 10," the 38-year-old announced on Instagram along with a promotional image taken by photographer Vanessa Beecroft, featuring beautiful women — including Kim — of all shapes, skin tones and sizes.
"I love the idea that the pieces will be the closest thing to someone's skin, skimming with amazingly soft and supportive fabrics which accentuate the best parts of our bodies. Available in sizes XXS – 5XL, SKIMS Solutionwear™ is for every body. SKIMS.COM. #ShowYourSKIMS," she added.
For the rebranded collection, which officially launches September 10, Kardashian West kept the same overall bubble-shaped font logo that her husband, Kanye West sketched for Kimono. The all-new website for SKIMS calls the collection a "new, solution focused approach to shape enhancing undergarments."
It continues, "SKIMS is the culmination of Kim's personal experience with shapewear and is fueled by her passion to create truly considered and highly technical solutions for every body. Whether the desire is to enhance, smooth, lift or sculpt, SKIMS provides superior options for all shapes and tones."
The "solutionwear" collection will consist of items such as bikini briefs, thongs, bras, waist trainers, body suits, thermal leggings ranging in price from $22 to $98. The brand will offer sizes XXS to 4XL and in nine different skin tone shades.
Kim first shared about her latest business venture in June. While the overall reaction to the core of her collection was positive, people were quick to point out the flaw in her choice of brand name, accusing her of cultural appropriation.
In a recent interview with WSJ. Magazine, the reality star maintained that her initial misnaming of Kimono was "innocent" in nature but confessed that she should have known better. "You would think we would have obviously thought it through a little bit deeper," she told them. "I'm the first person to say, 'Okay, of course, I can't believe we didn't think of this.' I obviously had really innocent intentions. But, let's listen. And I want to really listen. And I want to really take it all in."
She also addressed the misstep on Instagram, explaining that the experience served as a lesson in growth for her.
"I am always listening, learning and growing – I so appreciate the passion and varied perspectives that people bring to me," she wrote. "When I announced the name of my shapewear line, I did so with the best intentions in mind. My brands and products are built with inclusivity and diversity at their core and after careful thought and consideration, I will be launching my Solutionwear brand under a new name. I will be in touch soon. Thank you for your understanding and support always."
She also shared video of the process of figuring out what to do about the 2 million garments that already bore the Kimono label. "Because I wanted everything to be really seamless and feel really good, we printed everything inside all of the garments," she said. "So now I have to come up with a solution and not be wasteful because we have printed almost two million garments so far with the Kimono name."
"I just want you guys to have a little progress report and know that I'm working really hard to figure out how to not be wasteful and change the name at the same time," she concluded.
The line launches September 10th and has a wait list for more information.