This Is Why Kim Kardashian Visited The White House Yesterday
by Cassandra Stone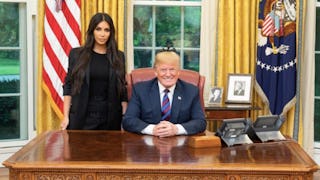 Image via Twitter/Donald J. Trump
Kardashian is seeking clemency for Alice Marie Johnson, a great-grandma currently serving a life sentence
Yesterday, Kim Kardashian met with Donald Trump at the White House to discuss criminal justice reform — probably not a sentence anyone thought they'd ever read, but these are the times we're living in.
Kardashian met with Trump in hopes of pardoning a great-grandmother who is currently serving a life sentence without the possibility of parole for a non-violent, first-time offense. Honestly, it's pretty hard to knock someone for putting their money and influence toward a deserving cause — which is exactly what Kardashian is aiming to do.
Alice Marie Johnson was convicted in 1996 for a first-time drug offense, and she's been in prison for more than two decades. Prior to her conviction, Johnson had lost her job and was experiencing serious financial difficulty. According to a Change.org petition created by her daughter, Johnson says she couldn't find a job fast enough to take care of her family. Out of "panic and desperation" she became involved in a drug conspiracy by passing messages between co-conspirators.
She will die in prison unless she's granted clemency. The only person who has the power to do that is the president. So where does Kim Kardashian fit into this story? When Mic.com released a piece on Johnson last fall, Kardashian saw it and felt compelled to act.
According to the ACLU, Johnson is one of 3,278 people serving life without parole for a nonviolent offense. Of those serving, 79% of these people are drug offenders and 65% are black. Basically what this all boils down to is the need for reform in the criminal justice system, a system designed to work against people like Johnson: non-white and facing poverty.
As someone who used to dig through couch cushions for gas money and sold family jewelry to pay bills, I can honestly say I know what it's like to feel desperate enough to do whatever it takes to keep yourself afloat. Back then it was just me — I couldn't imagine being in that position with a family to support, like Johnson.
Since being incarcerated, Johnson's daughter says she's been a "model prisoner" who mentors other women. She's also become an ordained minister and a playwright who has written, directed, and produced several plays performed at conferences outside of prison walls.
Kardashian, who plans to use her wealth to continue working on criminal justice reform, says she believes Johnson will "thrive" outside of prison. "I'll do whatever it takes to get her out."
And that's exactly she did, in part, by meeting with Trump yesterday at the White House.
Say what you will about the Kardashians (personally I find it nearly impossible not to admire the hell out of the Kris Jenner Machine and their collective business acumen). Say what you will about how fucking wild it is that a Kardashian is taking meetings at the White House about substantial and political issues– because it's practically incomprehensible on many levels. But if she can use her looks, celebrity, and money to entice Donald Trump to let Alice Marie Johnson live the rest of her life in freedom with her family, so be it.