An Open Letter To Kim Kardashian After She Used The R-Word
by Shannon Striner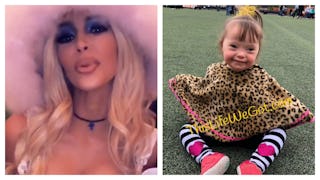 LEFT: Kim Kardashian/Instagram; RIGHT: Shannon Striner
Dear Kim,
You and I aren't so different. We are both mothers. We both had to fight hard to conceive and deliver our kids. Like you, I had Asherman's syndrome. I endured the hysteroscopies and the endless ultrasounds. I went through miscarriages. We both had our struggles, but we both ended up with beautiful children.
Unlike you, I ended up getting an extra surprise on the day of my daughter's birth. You see, she was born with Down syndrome. I was completely unprepared for her diagnosis. I loved my child fiercely, as only a mother can do, but I struggled. I had to deal with a whole new set of worries in unchartered territory.
I am happy to say, that today, I am an advocate for my daughter in every sense of the word. My daughter amazes me. She is brave, determined, and joyful. She has taught my family endless lessons. She is more alike than different. As her mother, I worry. I worry about how the other kids in school will treat her, and how they will perceive her. And my biggest worry of all is that someone someday will call her a "r****d".
That word is now considered hate speech. Did you know that when you used that word live on social media recently? I know you said that you made a mistake. I give the people in my life grace when they use this word. I correct them and explain why it is so hurtful to myself and my daughter. But I give them grace.
However, I do not think I can grant you that same grace. Here is why. You are a public figure. You want the success that comes with being a celebrity, then do better. If you are filming, choose your words carefully. Choose them as carefully as you choose your wardrobe, because words matter.
Some teenager out there, who worships you, saw that video you posted and thinks it's cool to use that word now. Who is the victim in all of that? My daughter and her peers. Mother to mother, I am begging you to remove that word from your vocabulary. I would not be the advocate I claim to be if I did not confront you about this. Spread the word to end this word.
Sincerely,
One Pissed Rockin' Mom
This article was originally published on