Kind Stranger Holds Baby On Flight So Dad Can Rest
by Sarah Hosseini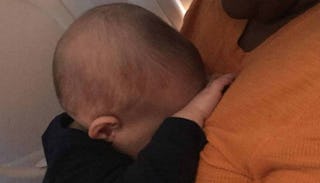 Image via Facebook/Evan Hughes
Baby gravitates towards woman on flight who jokingly says it's the "power of the boobies"
India Massinburg, on a flight from Atlanta to Dallas, was hoping to have a quiet flight when she noticed a man walking toward her with his baby.
"I was already sitting in my seat and I had my earphones on and thought, 'Oh man, I hope this man with the baby doesn't sit next to me' because I didn't want crying," Massinburg laughingly said, according to Yahoo News. It wasn't long before the eight-month-old became "infatuated" with the woman.
"Going at it solo and unplanned was last minute and very stressful, so my mind was in a million places," Evan Hughes told Scary Mommy. The dad was taking the Dallas bound flight, trying to get home after he and his wife Kari were visiting friends in Chicago. Their flight had been canceled due to weather and the two were forced to get on separate flights to get home.
Hughes quickly changed his son Ki's diaper in the airport and boarded the plane next to Massinburg, who was occupying the window seat.
"He started fighting me, trying to climb over me to get to her because she was near the window," Hughes said. "She offered to hold him so he could look out the window but I said no because I didn't want to impose."
Ki was getting kind of antsy once up at cruising altitude (understandably so, he's a baby) and grew a little louder in showing his desire to sit with the woman. She offered a second time to have Ki come sit with her and Hughes gratefully accepted. The dad said after looking out of the window for a few minutes, Ki snuggled up to the woman and was "out" for a nap.
He posted the woman' selfless act on Imgur, to which Hughes quoted Massinburg as jokingly saying, "Power of the boobies." We concur on that note, boobs can double as great pillows.
The dad got a little shut eye himself while the woman held his baby and later in the flight they passed Ki back and forth between each other. "In the moment it was some much needed relief to have India offer to hold and play with my son Ki," Hughes says. "I know she is aware, but I can't reiterate enough just how much her gesture meant to me in that moment. I'm just glad I was able capture it and share it with the world!" And share it he did. He wrote under his Imgur image, "The kindness of this stranger was truly refreshing on what was quickly becoming one of the worst days in a long time. There is still hope!"
Hughes' story shows us the amazing things that happen when humans unite.
"My message to parents traveling this holiday is to try and stick together!"