Kinder Eggs Are Finally Coming To America, Your Kids Are Going To Freak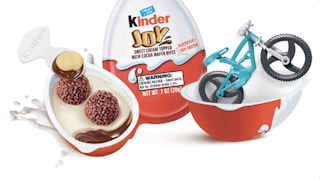 Image via Shutterstock
You can finally buy Kinder Eggs without feeling like you're smuggling in contraband
A piece of chocolate candy with a hidden toy inside — what kid wouldn't love that? One large problem: hiding tiny toys inside food is probably not the best thing for kids (hello, choking hazard). The Kinder Surprise eggs were made illegal in the US in the 70's, shortly after the Italian company Ferrero started manufacturing them.
Sure, you can still find them in some smaller stores thanks to renegade shop owners, but you have to buy them with a large side of guilt: "Hmm. My kids would love these, but they are illegal. What to do? What to do?" Or you do buy them, then hawk over your kid because you're convinced you are going to be the cautionary tale: "That horrific mother bought a Kinder Surprise egg and NEARLY KILLED HER CHILD." Now, you can leave all this inner turmoil behind, because Ferrero will finally start selling another product in the U.S. They are called Kinder Joy eggs, and they're not nearly as cool as the O.G. variety, but beggars can't be choosers.
The difference with the Kinder Joy egg is that it comes with two individually wrapped halves. One half has the surprise toy inside, the other has tiny wafer balls, chocolate cream, and a tiny scoop. So basically, your kids are still going to love them. And you no longer have to feel like a criminal smuggling contraband into your home if you stumble upon one.
I am unnaturally obsessed and terrified with choking, so I never bought one — which is strange since I was raised in the seventies, with an aunt who baked a dime into a cake on your birthday for "good luck." We all wished and wished to be the kid who bit into that dirty dime, baked into that lemon bundt. Ah, the good old days. I now have a comparable candy to offer my kids without a side of "choking hazard."
Win, win.
This article was originally published on