Watching This Class Zoom Proves Good Teachers Are Priceless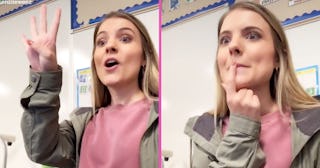 kenziiewenz/TikTok
This ultra energetic kindergarten teacher keeping her class engaged online is literally a delight to watch
Keeping kids engaged is tough. Keeping kids engaged virtually amid a global pandemic is even tougher — and none know this better than teachers. While, for the rest of us, it seems an impossible feat, one kindergartner teacher is showing us all that it can be done — and with the energy of a teenager who just chugged three Red Bulls.
Mackenzie, a kindergarten teacher from Washington, has gone super-viral for her TikTok video teaching her 5-year-old students the number four with so much vigor and intensity, we feel compelled to hibernate and recharge after watching the minute-long clip.
"I see Brin is holding up the number 2 and 2," Mackenzie excitedly says in the video that's amassed a staggering 9.6 million views since it was posted three days ago. Mackenzie then holds up both her hands, with two fingers up on each side: "That will also make 4!"
"I feel like you really have to up the ante when it comes to facial expressions and arm movements," Mackenzie tells Buzzfeed News. "Online, you really have to amp it up."
Mackenzie continues to explain to the online publication that, in order to keep 5- and 6-year-olds engaged, "you have to do a performance for them."
"I do think that teachers are actors, and we have to put on a show for these kids to keep them engaged when they're in their homes," she says.
The viral video continues with Mackenzie showing off her laminated sign of a microphone. "Grayson, go ahead and turn your microphone on for me!"
"They're still learning the computer and, thankfully, the parents have been helping with everything, too," she explains to Buzzfeed.
Mackenzie posted another video to her TikTok that has also gone viral, already garnering more than 1 million views since it was posted two days ago.
"Thanks for all the kind words about teachers," she captioned the video. "In case anyone wanted to stay on kindergarten TikTok, here's a lesson from today."
"Ooh, a peach! Does 'peach' have the letter 't' sound?" Mackenzie asks her students. "Or nooo, not a teach sound at the beginning?" she continues shaking her head with her hands on her head.
"I wasn't exaggerating for the camera or doing anything but teaching," she tells Buzzfeed. "I was just trying to make sure they were looking at me and not their doggies."
Mackenzie's video has been so well-received, it's even caught Chrissy Teigen's attention, who wrote, "I hate that kids are losing so much valuable social time out in the world but man, love teachers so much. Making it work."
"The response has been wonderful," Mackenzie says. "I think the video has really given people insight into what early education looks like online."
And we can't thank teachers enough.