Kirk Cameron's Marriage Advice to Women? Shut Up!
by Mike Julianelle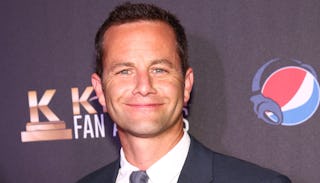 Image via Terry Wyatt/Getty Images
Washed-up 80s sitcom star knows how to fix your marriage. It mostly involves wives being quiet.
I thought Kirk Cameron was really cool in the 80s. As the star of "Growing Pains", one of my favorite shows — thirty years later, I sing the theme song to my three-month-old, and yes, I have it memorized — I watched him flout authority and chase girls every week! But people change. Kirk no longer chases women, he chastises them.
And these days he's much funnier than he ever was on ABC.
The star, now 45 years old and participating in something called the "Love Worth Fighting For" National Marraige Tour, (the groupie scene must be OFF THE CHAIN!) is back in the news for his views on marriage.
According to Fox News, Cameron gave an interview to the Christian Post newspaper, in which he put forth some ideas about how men and women should relate to each other, for the sake of a stronger union. "Wives are to honor and respect and follow their husband's lead, not to tell their husband how he ought to be a better husband," the actor said.
Apparently, it's totally cool for husbands to tell wives how they ought to be better wives?
Not so fast! Cameron also encouraged husbands "to love their wives and not to tell their wives that they need to submit to them." Okay, so let me get this straight. Wives can't offer constructive criticism, and husbands can't tell their wives what to do, unless it's about not offering them constructive criticism. This dude contradicts himself more than the Bible!
My wife tells me how to be a better husband all the time! Without her constant support we'd barely have anything to talk about! She tells me how to be a better dad, how to be better at taking out the garbage, how to be better at unloading the dishwasher, etc. Constructive criticism is a part of marriage. It's my wife's right to offer me tips, just as it's my right to ignore everything she says because I'm a man and it's 2016 and I hope she doesn't read this.
Marriage is a partnership, and we entered into it voluntarily, as two independent adults. We don't own each other. I let my wife be herself, and she lets me be the best version of me that she can browbeat me into being. It's just the way marriage works. I don't know where Kirk is getting his crazy ideas.
"A lot of people don't know that marriage comes with instructions. And, we find them right there in God's word [in the Bible]."
Oh right.
To be fair, he does have some decent advice.
"When couples start arguing and fighting in front of the kids, dad cuts mom and mom cuts dad and the kids bleed," the father-of-six explains. "They see that and it damages them. When the kids get to marriage, they will follow patterns that they see."
I totally agree, fighting in front of the kids is not a good idea. Kids are sponges, they copy what they see. That's why when my wife and I engage in "Beat It" style knife fights, we do it after we put them to bed.
This article was originally published on