Meet The Most Trump-Resistant Member Of The Senate, You're Gonna Love Her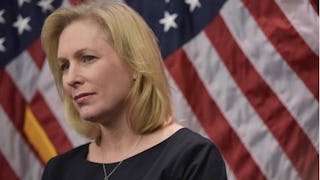 Mandel Ngan / Getty Images
Al Sharpton referred to her as "the Reverend Kirsten Gillibrand." Hillary wrote the forward to her book. She's run two marathons, and when pregnant, she discovered her law firm didn't have a maternity leave policy, so she wrote one.
After majoring in Asian studies, she went to China and interviewed the Dalai Lama. A mama of two, she's birthed two sons: Theodore in 2003 and Henry in 2008, when she was serving as Congresswoman from New York. She worked until the day of his delivery, which got her a standing ovation from her colleagues. When Hillary became secretary of state, Gillibrand was tagged to replace her in the Senate. But she wasn't just a political appointee. She won her next race, becoming the youngest elected member of the Senate at 42.
Basically, Kirsten Gillibrand is a total badass.
Then Trump was elected, and the real party began.
Gillibrand is the most consistently anti-Trump member of the Senate, voting against him 93.7% of the time, according to Rolling Stone. In the first month of the Trump administration, says New York magazine, she voted against his cabinet member choices more than any other senator. That includes vaunted progressive Elizabeth Warren, whose vote for Ben Carson as secretary of housing and urban development secretary led her to having to explain herself on Facebook. "I understand that some people might have made the call differently. I appreciate your making your thoughts heard," she said in a lengthy explanation that begins with "OK, let's talk about Dr. Ben Carson."
Even St. Bernie "got dinged" for playing so nicely with the Trump administration, voting for multiple Trump nominees, including the repugnant Jeff Sessions. In addition to Trump's pick for secretary of veteran affairs, who every Democrat voted for, Gillibrand only judged former South Carolina Governor Nikki Haley to be adequate for the job as ambassador to the United Nations. That's it.
"I look at each nominee," Gillibrand told New York magazine. "If they suck, I vote against them. If they're worthy, I vote for them." If only all our politicians could vote so simply and honestly.
Rolling Stone calls her "Congress's most unapologetic feminist," and says that she was uniquely positioned to channel the rage, especially the female rage, that ensued after Donald Trump was elected president (even after the"grab them by the pussy" debacle). I would agree.
At the Bridge Street AME Church in New York in late February, which New York magazine calls "one of the oldest black institutions in Brooklyn," Gillibrand stood up and demanded that the congregation "put on the full armor of God, so that on the day evil comes, today, you'll be able to stand your ground … That is what we are called to do! … We are the ones God placed here at such a time as this to fight!" People stood and cheered.
Earlier in January, when she'd spoken against Trump's Muslim ban, they had chanted, "Kirsten 2020!"
But she doesn't stop in the Senate chambers or the bully pulpit. Six years ago, Gillibrand started a PAC, Off the Sidelines, that helps women running for public office, according to according to Rolling Stone. They report: "This year, she says, 'a far greater number' of women than ever have reached out – overall, Trump's election has spurred at least 16,000 women and counting to consider a run for office. 'The silver lining of the Trump presidency is it is an era of activism, and one where women really want to be heard,' Gillibrand says. 'They are stepping up and owning their ambition and being willing to take risks — they know that the things they love are at risk.'"
And that's how she changed her mind on everything from gun control to immigration reform — she used to be a far more moderate Democrat. Gillibrand "treat[ed] every issue as a women's issue: from paid family leave, equal pay, and justice for victims of sexual assault in the military to gun control, immigration and jobs."
"I want women to understand these things so deeply affect us," she has said. "We should actually determine our votes based on who has our back on things that affect us unbelievably intensely."
Preach it, Reverend Kirsten. Preach it.
Kirsten 2020? I'm on board.