You're Going To Want Kirsten Gillibrand's Kids Book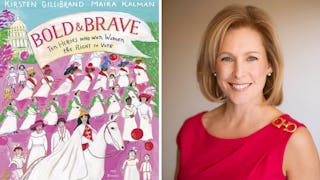 Maria Kalman/Ranier Hosch
Kirsten Gillibrand comes from a long line of strong women. Her great-grandmother Mimi, like so many of our grandmother and great-grandmothers, worked the factory lines during World War II while all the men were off fighting. Her grandmother worked at the New York State capitol building, and once showed her a room where women were stuffing envelopes with letters urging people to vote. Her mother became a sportswriter at a time when girls weren't allowed in press boxes and earned a black belt in karate. These were some tough ladies.
So it's no surprise that she's followed in their footsteps to become the junior Senator for New York, taking Hillary Clinton's seat, and even less of a surprise that, as a strong voice for women's rights in America, she's penned a children's book: Bold and Brave: Ten Heroes Who Won Women the Right to Vote.
This book tells the story of ten women who stood up for women's rights during the seventy-year fight for women's suffrage in America, starting with, of course, Susan B. Anthony, but also including lesser-known heroes, like Ida B. Wells and Jovita Idár.
"I chose these 10 because they inspired me the most," Gillibrand told Scary Mommy. "They were the women who did the bravest things at the time — they were the ones that pushed the hardest and never ever gave up. Each one was necessary for the success of the movement, and I wanted young readers and their parents to know about their inspiring lives."
Gillibrand doesn't keep this history dry and dusty, however. She begins the story by foregrounding it in her own: with her own great-grandmother, grandmother, and mother. She notes that when her grandmother was born, women didn't have the right to vote. Now, she says, less than a century later, she's a US Senator, and helps makes the laws in our country.
After she describes the ten women, she connects their story back to that of the Women's March in 2017, saying that millions of people stood in Washington DC and insisted, "We want to be counted. We want to be heard, and … we are not turning back." You, she says, "are the suffragists of our time … the future is yours to make."
I read this book with my nine-year-old son, Blaise. Out of ten women, he had only heard of three: Susan B. Anthony, Sojourner Truth, and Harriet Tubman, his favorite — whom he knew as a leader in the Underground Railroad, but didn't know was a notable suffragist.
Gillibrand agrees that Tubman is her favorite, too. "She risked her life over and over again because she had such empathy for those who were suffering. She always saw herself as a fighter for her faith and for what's right. She's the one I would want to emulate most."
But other women have a special place in Gillibrand's heart too. "I also appreciate Inez Milholland because she had to be fearless in the face of violence and obstruction during the first 1913 parade in Washington by parting the sea of angry, pushing, spitting, and jeering protesters so the women could continue marching," she said. "I liked that she used her legal skills and advocacy to fight for others."
Blaise read the book quickly, on his own, and said he enjoyed it a lot. The pictures probably helped: the book is illustrated with gorgeous paintings by the renowned artist Maria Kalman, who dedicates an entire spread to each woman. He liked that it included people he didn't know about, not just the big names in suffrage history we've all heard of, and the timeline in the back, which he was quick to point out to me. The book includes, as he says, "a walk through time of women who spoke out."
Or as Gillibrand calls it, "women who shaped our nation," including such luminaries as Phillis Wheatley, Sandra Day O'Connor, and Abigail Adams.
But, to my son, the most important part of the book was that it "included everyone." Gillibrand made sure to include women of color and point out their marginalization in the suffrage movement.
"Our history teaches us that each new generation builds on the last, and I hope this book will inspire young readers to be brave and bold in dreaming big and never giving up," Gillibrand said. These are real heroes she describes here, with real dreams, facing really serious odds — and they prevail.
It's a great introduction to women's suffrage, and an inspiring book for kids seven and up and their parents — yes, I'll admit to tearing up a few times, and I'm not alone. The senator tells Scary Mommy the most moving part about writing the book for her was "learning about women whose courage brought me to tears."
Bold and Brave is available now and recommended for ages 6-9.
We are a participant in the Walmart.com Affiliate Program and may earn fees by linking to Walmart.com and affiliated sites.
This article was originally published on