Kit Harington Plays Prank On Rose Leslie, Immediately Regrets It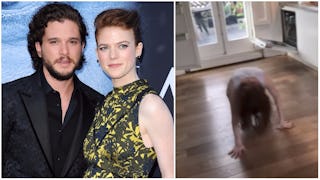 Image via Jason LaVeris/Getty Images/YouTube/The Jonathan Ross Show
We all melted a few weeks ago when news broke of Game of Thrones stars Kit Harington and Rose Leslie's freaking adorable engagement announcement. The seemingly old-school couple charmed the pants off us with their demure newspaper posting and we all basically assumed they must sit in a parlor sipping tea all day while quietly smiling back and forth at each other.
Um, not so much.
In a recent appearance on The Jonathan Ross Show, Harington proved that his prank game is on point with a video that will manage to make you both laugh and cringe in solidarity with poor Leslie, who is absolutely traumatized. Harington explains that he was playing an April Fools' Day joke on his fiance. And he might have gone a bit too far.
"My family does April Fools'," he explains. "Her family doesn't do April Fools'."
Leslie opens the refrigerator and what she sees has her MAJORLY shook.
Her dramatic reaction is totally warranted, y'all. Because THIS is what she saw:
I want to give her a big hug now and also, have her teach me archery and take me shopping for a spiffy fur cape.
Harington says, "She didn't know the date and after that she was in tears. And I was there going, 'April Fools!' It didn't go down well."
Well no shit, bro. She just saw a severed head in her refrigerator, did you think she'd burst out laughing? He does point out how funny it is that before going weak in the knees and doing child's post on the floor, she had the presence of mind to place the Brita pitcher on the counter instead of flinging it across the room.
Uh, hello — she was a Wildling. This woman doesn't mess.
In case anyone were wondering Leslie's stance on her future husband's penchant for pranking? "She pretty much told me if I did it ever again that would be it and I think that's marriage included," Harington says.
And not a single woman would blame her, Jon Snow.
This article was originally published on