'Game Of Thrones' Stars Kit Harington And Rose Leslie Tie The Knot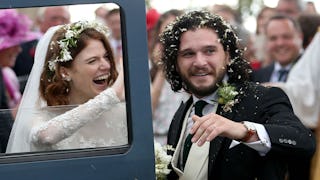 Image via Jane Barlow/PA Images via Getty Images
Kit Harington marries longtime love and former co-star Rose Leslie
Look out, Harry and Meghan, because our other favorite U.K.-based couple just tied the knot today — and the photos are stunning. Game of Thrones actors Kit Harington and Rose Leslie got married today in Scotland, and many of the cast members were present for the happy event.
Harington and Leslie — better known to die-hard Game of Thrones lovers as Jon Snow and Ygritte — have been dating since 2012, after the two met on the set of the show. They officially announced their engagement last fall in the sweetest way.
The lovely wedding was held in Aberdeenshire, Scotland, in a castle dating back to the 12th century. Don't even bother trying to stifle your sighs of dreaminess, because sometimes it's nice to enjoy nice things — like these sweet photos.
Leslie's look is absolutely stunning — from the lace and beading gown details to the beautiful flower crown on her head. And how cute is her dad? I'm a sucker for a beaming dad on his daughter's wedding day.
She's every bit the blushing bride, and could you blame her? Kit Harington is quite a catch.
Ahem.
Honestly, he has nicer hair than, like, 99% of the world's population.
Both Harington and Leslie look every bit the romantic, perfect couple. Naturally, the cast members of Game of Thrones were present for the happy occasion. It's every every day a Wildling marries a supposed-to-be-celibate member of the Night's Watch, you know.
Emilia Clarke, who plays Danaerys Targaryen (and Jon's aunt/lover on the show — but now isn't the time, dear) was in attendance
As were Sophie Turner and Maisie Williams, who play Harington's sisters in the series. They look precisely 500 times more stylish than I will ever look in my lifetime.
Peter Dinklage, who plays everyone's favorite Lannister (and really the only likeable Lannister) was also there.
When discussing the proposal back in October, Harington says he had plans to "do all the romantic stuff" but got distracted. "We were in the country and we were under this beautiful night sky and had a log fire burning and red wine and I blew my load early," he said before laughing at the very obvious sexual insinuation. "Sorry, that's a really bad expression!"
He told L'Uomo Vogue he fell in love with Leslie while on set in Iceland, admitting that was his favorite time shooting the entire series.
"Because the country is beautiful, because the Northern Lights are magical, and because it was there that I fell in love," he said. "If you're already attracted to someone, and then they play your love interest in the show, it becomes very easy to fall in love."
BRB, swooning forever. No word yet on whether the couple plans to honeymoon in remote ice cave somewhere.
In all seriousness, it's so sweet when people you love to watch be in love on television are actually in love in real life.
Congratulations to the lovely couple!
This article was originally published on