Kit Harington Shaved Off His Beard To Host 'SNL' And The Internet Had FEELINGS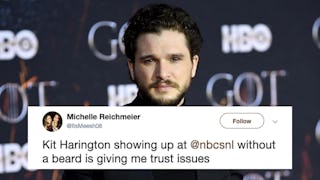 Image via Dimitrios Kambouris/Getty/Twitter/Michelle Reichmeier
Jon Snow without his beard is apparently a startling sight for a lot of fans
Kit Harington made his debut on SNL last night as this week's host, proving that when it comes to the importance of facial hair — Jon Snow knows nothing. We kid, we kid. But seriously, he looked so utterly different without his signature beard, the internet was immediately shook.
The best part of the show was the opening monologue, where he addressed the big question on everyone's mind: WHERE THE HELL IS THE BEARD?
"Now I've just shaved my beard so this is more of kind of a creepy prepubescent Jon Snow," he joked. "This is Jon Snow if he suddenly played for the Yankees … I have no idea what that means, but the writers told me to say that, so you guys probably know what it means."
He's definitely not wrong. While I was watching it, I had to put my glasses on because I was like "Something is…off…here" and realized Harington looks absolutely nothing like himself or his character sans facial hair. He also looks about sixteen years old. But the best part of the monologue was when his Game of Thrones cast members Emilia Clark, John Bradley, and his own wife (and former Wildling love) Rose Leslie showed up to grill him about a few things.
All of his costars pretend they have no idea how the show actually ends, but they think he does. Which is hilarious and extremely on-the-nose, given the plotlines and secrets of nearly 10 years of Game of Thrones have been guarded like Fort Knox.
When his wife, Rose, takes her turn, she jokes about not caring how the show ends and then gets to the really important stuff: "How soon can you grow back that beard?" LOL. Love it.
The reaction from the internet has been swift, because while some people can change up their looks with haircuts and shaving/growing hair and won't leave anyone batting an eye — that is not the case for others. Basically, the internet had some feelings about Hairless Harington (you're welcome for that, by the way).
Yes, did I mention his long curly locks were significantly shorter as well? Sigh.
All jokes aside, of course, Kit Harington has a lovely face and his hair is great no matter how much of it he decides to wear on his head or his face. It was just…jarring, that's all.
He likely was asked to shave it so he could adapt to each of the characters/costumes he portrayed while hosting the show. A beard would make things difficult and would likely just have us all not even remotely suspended in our disbelief because we'd just be like "oh hey Jon Snow in another sketch."
The final season of Game of Thrones premieres just one week from tonight — Sunday, April 14. And it's sure to be jam-packed with tragedy, triumph, dragons, weird diseases, incestuous fall-outs, sexy time, blood, war, swords, a shirtless Gendry, and — breathe easy, now — Jon Snow and his beard.