These Cute Kitchen Gadgets Make The Best Family Treats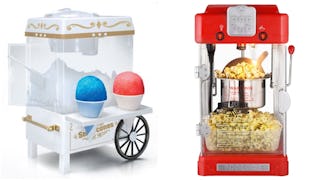 Image via Walmart
Make all the tasty treats with these adorable kitchen gadgets
Some nights all the fam wants to do is sit around in PJs, eat treats, and watch a whole lot of Netflix. If you want to up the snack game by about 100 points, I'd like to turn your attention to some cute, handy kitchen gadgets that will do all the work for you. Because cartons of ice cream are great and all but cotton candy and s'mores are next level perfection.
Cotton candy doesn't have to be reserved for carnivals and sports games. Dig into a cloud of colorful, fluffy goodness at home and the night will get a whole lot sweeter.
Turn your family movie nights into extra special events with this popcorn machine. Bring on alllll of the butter.
S'mores nights = best nights. The greatest part? You can enjoy all that ooey gooey marshmallow goodness at home, away from the camp fire mosquitos.
It's almost, almost about to be warm outside and that means you should be indulging in all the snow cones. This comes complete with two reusable plastic cones, an ice scoop, and a safety switch.
Melt all the chocolate and cheese that your heart desires so that the whole family can dig into some thick, warm deliciousness.
In the mood for a fun family dinner? Go with this hot dog roller and bun warmer. Bonus points: it's very retro and very cute.
Or go with a tried-and-true pizza night. This bad boy bakes fresh or frozen pizza, comes complete with glowing reviews, and will deliver all the hot pepperoni.
Gather together for a delicious evening of ice cream making. Don't forget to load up on all of the whipped cream, chocolate syrup, and sprinkles.
Treat yourself to the cheesiest of grilled cheese sandwiches. This maker comes with a non-stick surface, so there's a limited amount of annoying clean up.
Waffles are great. But waffles shaped like Mickey Mouse? That's next level breakfast treats right there. The mornings just got a whole serving of Disney magic.
Bring on all of the fluffy, chocolate-y, and crunchy goodness.
We may earn fees from purchases made via links on this page and affiliated sites. All opinions are our own.
This article was originally published on