Dr. Kizzmekia Corbett—Why You Should Know Her Name
by Sa'iyda Shabazz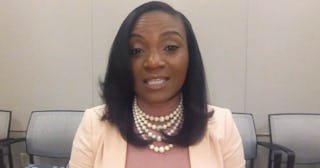 abc13
Now that the first two COVID vaccines are rolling out, people are turning their attention to those who had a hand in developing them. By now, we're well aware of Dr. Anthony Fauci and his team, but there's someone we are just learning about. Dr. Kizzmekia Corbett, a Black woman, has been influential to the development and success of the vaccine. And it's important to know who she is.
Kizzmekia Corbett, or Kizzy, as she prefers, is a Black viral immunologist who is also one of the National Institute of Health's leading scientists. She and her team at the NIH worked with Moderna on their COVID-19 vaccine. Dr. Fauci is openly praising her as a key component of the team's success. It may seem like Corbett has come out of nowhere, but that's not even a little bit true. The 34-year-old has been working towards this her whole life.
Kizzmekia Corbett got her degree from the University of Maryland Baltimore County on a full scholarship. She has done internships at UNC-Chapel Hill and the NIH. Then she went to a doctorate program at the University of North Carolina at Chapel Hill. Corbett has a PhD in microbiology and immunology, and all of her previous work studying infectious diseases laid the groundwork for her work on the COVID vaccine.
You can't talk about Kizzmekia Corbett without talking about the fact that she's Black. So far, the only faces of science we've seen have been old white men. Corbett is the only woman on the team, and she's Black. To know that a young Black woman is working behind the scenes is a huge deal. And now that she's getting the praise she deserves, it does a lot for representation. Her presence on the team is a crucial way to bridge the gap between science and the Black community.
"I felt that it was important to do that because the level of visibility that it would have to younger scientists and also to people of color who have often worked behind the scenes and essentially [who have] done the dirty work for these large efforts toward a vaccine," she said in an interview with ABC News.
In an interview with Dr. Sanjay Gupta for CNN, Kizzmekia Corbett acknowledges the concerns many people in the Black community have over the vaccine. It's important to understand the source of those concerns. Some will say it goes back to the Tuskegee Experiment, where doctors knowingly injected Black men with syphilis and didn't treat them. But mistreatment at the hands of medical professionals isn't solely in the past; the distrust Black people have for doctors is a current problem too.
"I'm Black and I have a Black family and I am well-read on the history of injustice when it comes to medicine in the Black community. And so, one of the things that I've had to step out of this and say that we're not going to be able to prove trustworthiness in this instance quickly, and that is OK," she says.
According to an Axios/Ipsos poll taken in November, 55 percent of Black Americans say they will take the vaccine if it's proven safe/effective. And since the Black community is experiencing higher rates of COVID, it's imperative to get them on board. Corbett makes it clear that for her, being part of the vaccine creation is one of the ways she hopes to rebuild that trust. She's well aware of the fact that it may not work. But she believes that it is her duty, not just as a Black woman, but as a scientist. It's clear she's aware the only way to move forward is to gain back the trust of Black people. It's entirely possible that some Black people will be less hesitant knowing a Black woman worked on the vaccine.
"The first step is that scientists and physicians and vaccine developers and et cetera, is to understand that the onus of this problem is not on them and their distrust; it is on us and our level of trustworthiness," she explained.
But Kizzmekia Corbett is also aware that it's more than just the Black community counting on her. So many Americans are desperate for the vaccine. She has been working on this since January, when Dr. Graham told her and her team to start looking at the virus coming out of Wuhan. Corbett stood alongside Dr. Graham and Dr. Fauci when they met with the president on March 3rd. By time as quarantine began, Corbett and her team were already working on the vaccine. When you're in a high stakes situation as pressing as Corbett, it's impossible not to let it get to you.
"There was, and is, already a fair amount of pressure," Corbett told NBC News back in April. "A lot of people are banking on us or feel that we have a product that could, at least, be part of the answer this world needs. And, well, whew, just saying that out loud is not easy."
Nine months in, it's hard to believe how gullible we were in March. Back then, no one could have anticipated that things would be the same in December. But that's where we're at. The need for the COVID vaccine is intense. Frontline and essential workers can't afford to not be desperate. Because of our feelings of desperation, it's easy to forget that scientists like Corbett are working hard too. All year, she has been just as stressed as the rest of us. And because she's human, of course the pressure began to take a toll.
"I felt like there was no room for mistakes, which was difficult because science — mistakes are actually part of the beauty of it," she told CNN. But she is fully aware that time was of the essence — there was no beauty or room for mistakes. Doing anything other than staying the course could have deadly results. Can you imagine the pressure Kizzmekia Corbett has been dealing with?
"And so that pressure, I could feel myself tensing up just by hearing an email ding, especially if it came at three o'clock in the morning. But the tears that I shed when the efficacy results came out were largely a sigh of relief. I was just so happy that there was finally light at the end of the tunnel."
Everything about this year is stressful. Work is hard for all of us. But to be one of the people tasked with literally saving the country? That's unfathomable. Yet, that's what Corbett has been doing. She's been working around the clock all year to make this vaccine happen. And like the rest of us, she's been living that quarantine life outside of work. She's adhering to the same rules we are as she works hard to find a way to end this pandemic.
We owe a debt of gratitude to all of the doctors who are working around the clock to get us a vaccine. But it's clear that none of this would have happened without Dr. Kizzmekia Corbett. Her tireless work this year gives us a shred of hope. As we see things hopefully get better, we'll have Kizzy Corbett to thank.
This article was originally published on