9 People Showed Up At A KKK Rally In Dayton, 600 Showed Up To Protest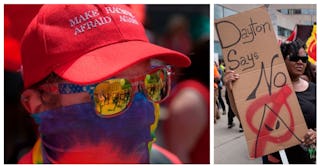 SETH HERALD/AFP/Getty Images
Nine KKK members showed, all but one wore a mask
A Ku Klux Klan rally planned over the weeekend in Dayton, Ohio had the city on edge and local police preparing for possible violence, arrests, and protesters. Turns out they didn't need to worry much about the KKK members themselves — only nine of them showed.
A loud and united group of protesters numbering 600 easily drowned out the hate filled messages of the Honorable Sacred Knights of Indiana on Saturday on Courthouse Square in Dayton. KKK members used bullhorns to chant white power rhetoric but even from the short distance to protesters, their voices were inaudiable over the cheers, music, songs, and shouts of equality. All but one of the members wore masks.
Before Saturday, tensions ran high as the city prepared and the rally received national attention. More than 700 police officers and blocks of barricades were on site to keep the peace and roughly $650,000 was spent to coordinate security and increased police presence, said Dayton City Manager Shelley Dickstein.
"Some may be critical of this investment," she said. "Unfortunately in today's world where individuals are free to open carry unlimited numbers of guns and where we have seen vehicles driven into crowds of peaceful protesters, we feel this investment was necessary."
With such an emotion-filled situation, the city was happy to report "no arrests, no citations and no use of force," Cara Neace, a Dayton police public information specialist said. The rally was a win for the city but that doesn't mean continued discrimination won't exist in the future.
"Dayton is still too segregated and still too unequal," Dayton Mayor Nan Whaley told the Dayton Daily News. "This is unacceptable and something we must keep focused on to change every single day."
Anti-Klan protesters made their voices heard during the rally, some dressing to support the Black Panthers and the Antifa, and shouted messages of hope while carrying signs like " No Hoods in My Woods," "You Are Not Welcome Here," and "Injustice Anywhere Is a Threat to Justice Everywhere." Local businesses also showed up to support protesters, shouting "Get your hatin' out of Dayton."
Even though the number of KKK members amounted to a small wedding party, the fact that there are still rallies spreading messages of hate based on race, religion, sexual identity, or anything else that defines us is abhorrent.
"It's very shocking to me," Byron Benoin, a school teacher from Chicago who attended the rally as a member of his church group, told The Hill. "I mean, being a black man from Chicago, and in your mind you feel like you're past certain things that you're not going to see, and it's just shocking that you're actually gonna see something like this."
"There is a great crowd of people down here on Main Street," City Commissioner Darryl Fairchild told WHIO TV7. "This is probably Dayton at its best."