'Kode With Karlie' Is Not a New Dance Workout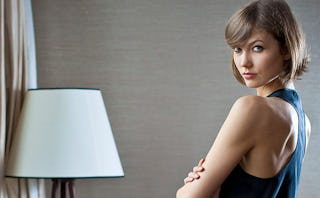 Brains and beauty don't have to be mutually exclusive. Just ask Karlie Kloss.
Maybe you know her as a Vogue cover girl. Or as a Victoria's Secret Angel. Or as Taylor Swift's bestie. But forget all that for a minute and meet Karlie Kloss, code crusader.
The supermodel took coding classes last summer and fell in love. Ever since, the one-time face of Chanel has been very vocal about encouraging other girls to learn programming. Now she's putting her money where her mouth is ($20,000 to be exact) with the Kode with Karlie Scholarship, her partnership with the Flatiron School in New York for girls ages 13 to 18.
Kloss announced the program yesterday on—where else?—her popular Instagram account. Here's the deal: The Kode with Karlie scholarship will cover the tuition for 20 girls to attend the Flatiron School's two-week Introduction to Software Engineering course. And don't be fooled by all those cute K's in the scholarship title. This course is the real deal, where students will not only learn the coding language behind sites like Twitter and Etsy but also how to build an app. "I took my first coding class last summer and I was surprised by how creative and expressive programming truly is," she says in her post. "I couldn't be more excited to share this opportunity with young women this summer!"
So how do you apply for this thing? Create a 30- to 90-second video explaining why you want to learn how to code, upload it to YouTube, and then go fill out an app on the Flatiron School website and include a link. Application deadline is May 1.
"Code is only going to continue to play a major role in defining our future," Kloss says in a promo video. "I think it's crucial that young women learn to code as early as possible to ensure that we […] have a voice and a stake in what the world looks like."
.
This article was originally published on