Kohl's Is Rolling Out A Hassle-Free Way To Deal With Your Amazon Returns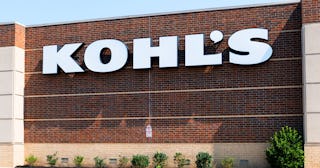 SOPA Images / Getty
Free Amazon returns and no label needed? Sign us up
The Kohls/Amazon partnership just got a whole lot sweeter for its customers this week when the retail giant announced it will be accepting Amazon returns at all 1,150 Kohl's locations beginning this July.
If you thought that was enough to make your Tuesday a winner, they also announced they will accept opened packages. Also? Eligible items will not need a box or label to be returned. OK, we see you, Kohl's.
The partnership is a result of a "shared passion in providing customer service" and "combines Kohl's strong nationwide store footprint and omnichannel capabilities with Amazon's reach and customer loyalty," Kohl's CEO Michelle Gass said in a statement. "This new service is another example of how Kohl's is delivering innovation to drive traffic to our stores and bring more relevance to our customers."
The returns program is currently running in about 100 Kohl's stores in Los Angeles, Chicago, and Milwaukee which started in pilot form in 2017. But the announcement that this will be an available service in every single Kohl's store is a whole other level of excitement for people who don't live in those cities. The retailer will also carry some Amazon products in more than 200 of their stores, the company announced last month.
This is huge if you are like me and tear into your packages like a honey badger only to realize you need to find a new, less shred-y box to ship your returns in. Similarly, if you are one of the Americans contributing to the over $39 billion (that's billion with a B) who drank and Primed last year, you may rethink your purchase in the days following and will now have an easy out by dropping it off at your local Kohl's. Bless.
Some analysts believe that Kohl's could take this partnership to the next level by bringing popular Amazon concepts like Amazon Go, Amazon Books, or Amazon 4-Star to its stores, CNN reported.
There is also the possibility to lease out store space to Whole Foods, Amazon's most recent purchase.
With big retailers like Toys-R-Us, Clarie's, and Blockbuster (back in the day) going out of business, this may just be the genius move that will keep Kohl's from becoming a fossil in the face of online shopping's popularity.
For its part, Amazon isn't slowing down in the innovation department. They launched their Key program this week which will allow delivery personnel to leave packages inside people's homes. Those of you who work from home in your undies — you've been warned.
Gass believes that partnering with Amazon may help attract younger shoppers to its stores, with a Target-like experience where you go in for one thing and stay and buy ten other things you don't need. For Amazon, giving shoppers an easy way to return items, especially the large and bulky variety, is a win-win. "It's really unique. It takes a lot of the hassle out of returning items," Gass said.
And busy parents everywhere said, Amen.