Kohl's Now Has An Adaptive Clothing Line For Kids With Special Needs
by Julie Scagell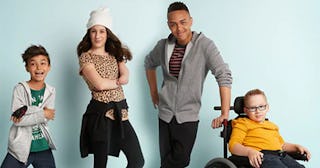 Kohl's
The line is in stores and online now
If you have a child with a sensory processing disorder or one that uses a wheelchair, it can be hard to find clothing that works for them and is comfortable. Kohl's recently announced they launched a line of kids' apparel that will offer adaptive capabilities for those with special needs, and people everywhere are applauding the initiative.
The retail giant introduced the collection aimed at kids ages three months and up (including juniors and young men) that are wheelchair- and sensory-friendly and made by their three largest-selling brands: Urban Pipeline, SO, and Jumping Beans. "We recognize that a little ease goes a long way. That's why we're introducing adaptive designs from a few of your favorite brands," the company said on their website.
According to a company statement, the clothes were "thoughtfully designed, making stylish, quality apparel accessible to all. It recognizes the unique needs of Kohl's customers, offering the same inclusive fabrics, styles, graphics, and shopping experience that makes their everyday realities a little easier and more rewarding."
The line is not only adorable, it offers special features for ease and functionality like abdominal access and diaper support. "We aligned on what needed to be considered when fitting, such as how a pant fits when sitting down, could the pockets still be used, is the shirt long enough to cover in the back, and so forth," said Judy Koepsel, the technical designer manager, whose daughter has special needs.
"It really gained steam after Judy got wind of it," shared Stephanie Curtis, associate product manager for girls sportswear. "When the product design team introduced the idea to our partners, everyone felt a personal connection to this cause."
Sensory processing disorders affect five to 16 percent of school-aged children. Many struggle with how to process stimulation, causing hypersensitivity to sound, sight and touch, poor fine motor skills, and easy distractibility. Having space for everyone to enjoy themselves and have fewer concerns about the day is a wonderful thing.
"Just because we are creating clothing for unique needs doesn't mean that it needs to be basic," Associate Product Manager for Jumping Beans Kara Smoltich said. "We have made every effort to ensure that the product looks as close to our core line as possible. Everything from graphic artwork to pocket detail is reflective of the brand."
The clothing line is retailing items for $7 to $46 per piece and customers have no shortage of options to choose from like T-shirts, hoodies, dresses, tank tops, sweaters, bodysuits, shorts and more.
"Everyone involved was extremely thoughtful as to how the product would be used," the statement said. Bravo.
This article was originally published on