Kourtney Kardashian's Kids Have A $100K Playhouse That's Nicer Than Our Actual Homes
by Christina Marfice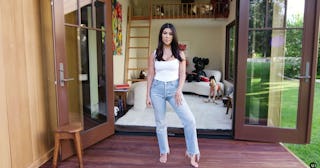 Architectural Digest/Youtube
So can we just move into the playhouse Kourtney Kardashian built for her kids, or…?
Of course Kourtney Kardashian dropped $100,000 to build a backyard playhouse for her kids. And of course it's probably nicer than any home we'll ever own. Both of those things are facts that are just very on brand for the Kardashians, and something we normal people just have to live with. Luckily, to help stave off our (play)house envy, Kourt gave a tour to Architectural Digest so we can get a really clear picture of how the other half lives.
"I have been talking about building a kid's playhouse since Mason was super young. I'm talking, like, years and years ago where I used to go on blogs, I don't even remember what blogs they were now, and I just have a folder of all these old photos," she says in the video. "Nine years later, Scott was like, 'I'm taking this into my own hands and I'm building the kids a playhouse.'"
The result is the sleek, modern, container home that is literally my future housing dreams, so cool, Kourt, glad you casually built that in your backyard for your children. She says it was inspired by architecture in Mexico.
"One of the things that drew me to this hotel in Baja was all the different woods that were being used in one. I want to basically do this same thing in this playhouse in the backyard."
Anyway. Casual.
Kardashian has three kids: Mason, 9, Penelope, 7, and Reign, 4. This playhouse is literally the stuff of childhood dreams, so they are some lucky babies. Seriously, look at it.
And here's the inside, complete with Kourt sitting casually on some sort of couch-horse hybrid piece of completely dysfunctional furniture that I can only assume cost more than my rent.
Kardashian proudly states in the video that the family's decorator had nothing to do with her space — the white sheepskin and white horse thing and white sofa were all her loving touches that she picked out for her children. Did she also lovingly pick out the dedicated maid who lives in the playhouse to keep the kids from destroying all that white? We may never know.
But the house is actually filled with some very sweet, personal touches, like the rocking horse Kardashian has had since she was a kid.
And the books that came from her and sister Kim's personal childhood collection. The playhouse is full of books because Kardashian deemed it a technology-free zone, meaning the kids aren't allowed to take any of their phones, iPads, or computers into it. She sheepishly admits that that's why 9-year-old Mason has already given up on using it.
Oh, and those giant, leather Mickey and Minnie plushes? They're Coach. Of course they're Coach.
And the view of the backyard when you're sitting on the playhouse couch or in its loft is downright idyllic, and I'm trying really hard not to be mad as I type this near my apartment window, which faces my neighbor's siding all of two feet away.
Anyway, here's your daily reminder that celebrity children live better lives than most of us ever will. But TGIF, amirite?
TGIF.
This article was originally published on