Krispy Kreme Has A New Pumpkin Spice Doughnut Filled With Cheesecake
by Madison Vanderberg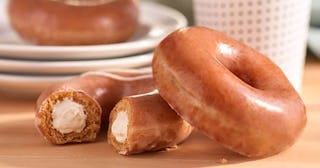 Krispy Kreme
Krispy Kreme's new pumpkin spice-flavored doughnuts are only available for a week
It's pumpkin spice season, y'all! It's technically not even fall yet, but everyone is rolling out their pumpkin spice-flavored drinks, treats, and snacks already. Krispy Kreme announced the return of their Pumpkin Spice Original Glazed Doughnut (which is basically their original Glazed Doughnut, but it tastes like pumpkin pie), but we're most excited for their new seasonal doughnut: the Pumpkin Spice Original Filled Doughnut, which is a Pumpkin Spice Original Glazed Doughnut filled with, wait for it, "cheesecake Kreme."
The doughnuts have only been on shelves for two days, but according to early social media reactions, you need to "get a dozen .. or two they were THAT good."
"The base doughnut is light, airy, and packs a sweet cinnamon flavor," writes another reviewer. "There are no deep notes of clove or nutmeg, but there is just enough pumpkin to keep us white girls entertained. The filling on this doughnut is similar to the OG kreme filled doughnut that was released earlier this year. The luscious and twinkie like filling is combined with a subtle tanginess to give you a cheesecake vibe."
https://www.instagram.com/p/B17CE3wDmzK/
The only catch is that both these doughnuts are only available until September 8, however, the brand's Classic Pumpkin Spice Cake Doughnut is available until Thanksgiving.
Krispy Kreme is also offering something called the "Pumpkin Spice Purchase Protection" plan from now until September 8. If you buy a pumpkin spice flavored-treat from another retailer and you hate it, you can bring it into any Krispy Kreme store in exchange for a free doughnut.
"Bad pumpkin spice products shouldn't happen to good people," Dave Skena, Chief Marketing Officer for Krispy Kreme said in a statement. "If you've been impacted by the proliferation of pumpkin spice products that don't make sense, come to Krispy Kreme and we'll make it all better with a free pumpkin spice doughnut."
For example, if you buy, say, Kellogg's Pumpkin Spice Frosted Flakes and you're like "this taste likes trash," just take it to Krispy Kreme and get a doughnut instead.
Happy pumpkin spice season!