Krispy Kreme Has Reese's Donuts Now So At Least There's That
by Sarah Bregel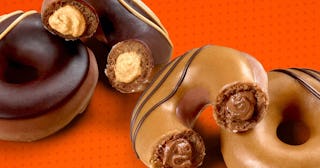 Krispy Kreme
Donuts and peanut-butter just got a little bit better
In news that makes you drool all over your dog or your desk, Krispy Kreme just gave us something good. Real good. They've partnered with Reese's yet again to create two miraculously mouthwatering new donuts filled with peanut butter and chocolate.
Salivating yet? Read on, friends.
As if donuts and peanut butter weren't scrumptious enough on their own, now we get to enjoy them at the SAME TIME because Donut Dreams are a thing and apparently, they really do come true. Don't ever say Krispy Kreme doesn't care about you. Reese's, too.
What's even better is that these donuts are readily available for your (mass) consumption like, right now. So, get into it. Oh wait, you already left work to buy some you say? Well, can't say we blame ya.
https://www.instagram.com/p/B0ySVTTHUz_/
Here are the gooey details.
First up, we have the Reese's Original Filled Peanut Butter Lovers Doughnut. If you think the name is a mouthful, well, just wait until you get your hands on this tasty treat. This sweet breakfast/lunch/dinner/late-night-snack/anytime-food is stuffed with chocolate peanut butter creme, dipped in PB icing, then topped with chocolate. OMG. Must. Have. Now.
But let's not forget about the Reese's Original Filled Chocolate Lovers Doughnut because this one sounds pretty damn delicious, too. It's filled with Reese's peanut butter creme, dipped in chocolate fudge icing, and topped with a PB icing drizzle.
There's really no way to go wrong here. But you should probably just try them both because when the world is on fire and food news is the best kind out there, what do you really have to lose? Luckily, trying both is made simple because while you can absolutely buy them individually or by the dozen, they're also being sold in a limited edition two-pack in honor of Reese's.
LIMITED EDITION. So, go! Run, don't walk to the nearest Krispy Kreme!
While this isn't the first time that Reese's and Krispy Kreme have made all our hopes and dreams come true, it might be the most epic. At least according to chief marketing officer, Dave Skena, it is. "Our latest co-creation with Reese's is our best yet!" he said in a press release. "If the technology exists to fill a Krispy Kreme doughnut with Reese's Peanut Butter Kreme and Chocolate Kreme, then how could we not offer that to America? Well it does. So we are. And it's amazing."
Those who have already gotten their mouths around one of the new PB-collab donuts just had to share the gooey goodness with the world.
https://www.instagram.com/p/B01BjsXDLOp/
All we have to say is, bless you Reese's and Krispy Kreme. And while we're feeling grateful, thanks to technology for making this happen, too. Thanks to peanut-butter. Thanks to peanuts! The list goes on. Basically, we're welcoming this collaboration with open arms, and really open mouths.
Either way, life just got a little sweeter and we're here for it.
Actually… we're at Krispy Kreme.