Krispy Kreme Released Their Spring Donuts And You're Going To Want Them All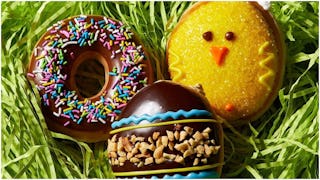 Image via Krispy Kreme
Krispy Kreme released new spring-themed donuts and they look ridiculously good
Get ready to feel some seriously impure feelings for a box of ooey gooey donuts. Krispy Kreme released their spring-themed collection, which features three new treats that are literally packed with all that's good and evil (I'm talking Reese's peanut butter cream inside a donut). This definitely qualifies as the sort of food you will need to store far, far away from the rest of the family's wandering hands. Like, in a locked safe ideally.
First up, we have the pièce de résistance: Reese's Egg Donut. It's been dipped in Hershey's chocolate icing, topped off with peanuts and covered with blue and yellow icing. Oh yeah, and the inside is literally stuffed with Reese's peanut butter. Donuts PLUS Reese's Pieces? Be still all of our hearts.
Next up we have the Spring Chick Donut, which is possibly the cutest thing you'll ever eat. It's decorated to look like a baby chick and has been dipped in yellow icing, sprinkled with yellow sugar, and covered in chocolate and orange icing. Also, the inside is filled with white creme. Let the salivating and food hiding begin.
Lastly, we've got the Chocolate Iced Glazed Donut which pretty much looks like your average Krispy Kreme treat. It's glazed with chocolate icing, topped with rainbow sprinkles, and is the perfect option if you're really not feeling all these fancy schmancy donuts.
Annnnnd here's the whole mouthwatering collection together, like a happy, sugary family.
If your donut-loving heart wants even more, never fear. Apparently there's a new lemon glazed dessert being released as well — so bring on a few more cavities, I guess.
"Our fans have been buzzing and speculating for weeks regarding when the new Lemon Glaze Doughnut that they voted for would be available," Jackie Woodward, Chief Marketing Officer of Krispy Kreme Doughnuts, said in a press release. "Add in special new cookie-inspired doughnuts, and it's going to be an awesome spring for Krispy Kreme guests."
So, basically, this is going to be a great, great season for desserts and you should probably start writing a sign that says "Hands Off, Property Of Mom" immediately.
This article was originally published on