Have A Family Who Refuses To Write Down Recipes? This Hilarious Twitter Story Is For You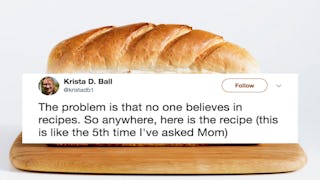 Image via Getty/Twitter/Krista D. Ball
You will fall in love with this mom's "recipe" for homemade bread
When it comes to baking, there are two kinds of people in this world: those who follow precise recipes and measurements and those who don't need to. Many of our moms and grandmas fall into the latter category, mostly because they've been baking the same delicious family goods for years, and they don't need to measure perfection.
Enter Krista Ball, a woman originally from Newfoundland, who was craving her mom's traditional homemade bread and decided to ask her for the recipe. Because who doesn't have a soft spot for their mom's baked goods, right?
Krista's recap of her conversation with her mother surrounding this bread "recipe" is one of the most relatable things you'll read today.
[Author's note: there is a Newfoundland accent and dialect, which just adds to the overall charm and sweetness of this story.]
Krista asked her mom for the recipe — except there's just one catch.
So relatable. My grandma looks at me like I've suddenly sprouted three heads when I ask her for certain recipes because she just knows how to make everything her own way.
"Not the big, big bag." LOL. So perfect.
Hahaha. This old school "recipe" plus Twitter equals the perfect amount of amusement.
OMG THIS MOM IS ALL OF OUR MOMS AND GRANDMAS.
This year for Thanksgiving, I wanted to try and make my grandma's pie crust recipe. ("Wanted" is really more "had to" because the grocery store had everything but my trusty pie crust shells and I had committed to a pie.) All I can tell you is that Grandma's recipe included a whole lotta lard (shoutout to Crisco) and eyeballing measurements, and it was so good. Not because it's a revolutionary pie crust, but because it's hers.
You want to replicate those childhood favorites as best you can, and those old school recipes simply aren't meant for Food Network levels of precise measuring. Which just makes them even sweeter.