Kristen Bell Celebrates Her Birthday By Bailing An Immigrant Mom Out Of Detention
by Thea Glassman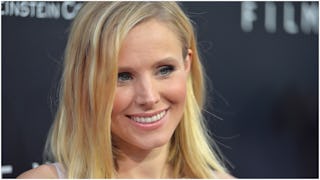 Image via Charley Gallay/Getty
Kristen Bell bailed an immigrant mom out of detention
Today in truly wonderful news, Kristen Bell celebrated her birthday by doing a very, very good deed for someone in need. The actress paid the remaining funds necessary to bail an immigrant mother out of a detention center — and then encouraged others to follow in her footsteps and do the same.
Bell kickstarted her day with a bunch of delightful treats from her child. She was given breakfast in bed, a handwritten note, and got her hair styled into a cute side ponytail. Honestly, what more can you ask for?
Then, the actress decided to make her special day even more special by helping someone who really needed it. Bell took to Instagram to share that she had donated the remaining $4,457 needed to release Delmi, an immigrant mother, from an ICE detention facility.
"What I really wanted for my birthday this year was a peaceful feeling. You can swipe left to see what I bought myself," Bell said in a video. " If you would also like a peaceful feeling, feel free to click the link in my bio and we can help family number nine."
Bell's donation went to Immigrant Families Together, a movement that's reuniting detained immigrant parents with their children. So far, seven mothers have been freed and reunited with their children thanks to GoFundMe contributions. There's sadly still a very, very long way to go for families who were separated under Trump's zero-tolerance immigration policy.
Julie Schwietert-Collazo posted a status update on Facebook, thanking Bell for her generous donation and letting the public know that their support is badly needed.
"What YOU are doing matters. Every donation- NO MATTER WHAT AMOUNT – every offer of in-kind assistance, every share on social media… it's all important," Schwietert-Collazo wrote. "We are beginning to repair the immense harm that our country has perpetrated against these women and their families. Please keep going. Stay strong. These women and their children need you. No matter what your financial situation is, you can make a difference."