Kristen Bell's Daughter Is Living Her Best 'Frozen' Life In Hilarious Video
by Cassandra Stone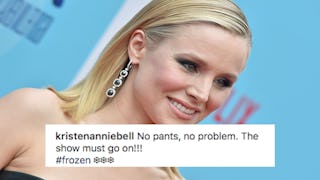 Image via Axelle/Bauer-Griffin/FilmMagic
Kristen Bell's daughter is living her best #ToddlerLife
Looks like Kristen Bell's youngest daughter comes by those high notes honestly. In a hilarious new video posted to her Instagram, Bell shares how well her daughter sings Frozen's biggest hit single.
"No pants, no problem," Bell captioned the video. And if you've ever had a toddler take over your house, then the following scene will look exceptionally familiar. If you haven't, then you might want to adjust your phone's volume or plug up your ears really quickly.
"A good wedgie always helps me hit the high notes, too." Love this to the infinite power.
Toddler undies? Check. Babydoll on the floor? Check. Belting out "Let it Go" to your heart's content at the top of your lungs, not a single shit to be given about the fact that it's not your mom's hit song from the iconic Disney movie she starred in? Check, check, check. If all of the above apply to you, you might be Kristen Bell and Dax Shepard's three-year-old daughter, Delta. Who is just trying to live her best life in this video, okay?
This isn't the first time Bell's children have expressed their preference for Elsa in lieu of their mother's Anna. Remember last Halloween? No? Allow us (and adorable good sport Kristen Bell) to remind you.
If you think your toddlers are currently majoring in How To Put My Parents In Their Place 101, please allow Bell's daughters to give you the solidarity all parents of young children need and deserve.
As a mother to a daughter roughly the same age who loves to a.) belt the Frozen soundtrack at the top of her lungs in her Peppa Pig underwear and b.) make tall order demands of her all-too-accommodating mama, I feel this most recent Kristen Bell gem on a spiritual level.