Kristen Bell Watching Her Kid's Preschool Graduation Is Every Parent
by Julie Scagell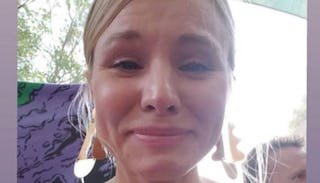 Image via Instagram/Kristen Bell
These ceremonies are meant to evoke all of the tears
If you've even watched your kid move on from one grade to another, you know that along with feelings of pride comes a whole lot of wistful tears. Kristen Bell is one of the most real celebrity moms out there, so when she shared her emotions about her daughter's recent preschool graduation, you couldn't help but feel her pain.
Bell and husband Dax Shepard's eldest daughter, Lincoln, graduated from preschool and they had one of those ceremonies that tug at every parent's heartstrings. The Frozen star posted on her Instagram Story a video and photo of herself with tears running down her face as the kids sang "I've Got Peace Like a River" in the background.
"Don't worry guys, I'm having a GREAT time at preschool graduation," she wrote. "I'm not a mess or anything."
She then quickly followed that up with her actual feelings on the matter, saying, "Ok I was lying before please send help," because omg her baby is growing up so fast and of course it's bittersweet.
The adorable parents unfortunately have another one of these to go through in a few years when daughter Delta, three, follows.
The singer and actress is no stranger to sharing the highlights (and lowlights) of parenting. She's not afraid to walk through the grocery store "decorated" in toddler stickers, complain about her kids "redecorating" her living room, and we can always count on her to tell it like it is when it comes to being a mom. She told People magazine last year, "We switch kids all the time. Because if I'm talking to the 2½-year-old, and I'm done, I'll just be like, 'We've got to switch. I don't want to talk to this kid anymore.' "
Bell also shared recently about her daughter's new school, telling E! News, "[Lincoln] will be starting kindergarten in a month. My first time!" she said. "I feel great. I mean, it has nothing to do with me, I'm just sort of here for her and I've shown her the school…they have like play dates during the summer where the kids can actually meet each other, so the environment is slightly more familiar and I have just told her, 'It's gonna be a new school and it's your school,' to give her a sense of ownership, and just be there for whatever she needs."
Here's hoping her Kindergarten graduation will be a little less emotional than this one — but somehow, we doubt it.