Prepare To Die Laughing Watching Kristen Bell And Dax Shepard On The Ellen Show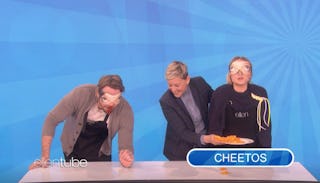 Image via EllenTube
Their communication is hilariously on point
There are not many celebrity couples who you feel like you could go have a beer with and commensurate about life, but Kristen Bell and Dax Shepard are definitely one of them. They are hilariously open and honest about all things parenting and marriage, and make it impossible not to love them. Just when you thought they couldn't get any better, they went on Ellen's YouTube show, EllenTube for a little game called "Taste Buds."
Ellen tested Kristen Bell and Dax Shepard's ability to guess what foods they were eating and explain them to the other person. Of course, they were both blindfolded, which made their shenanigans so much more enjoyable to watch.
"One of you will bend over to taste the food on the plate in front of you. Then you'll describe what you're eating to the other person," Ellen said to begin the show. They also cannot use their hands or use the name of the food. Cue some funny business with the blindfolds and let the games begin.
Bell kicked it off with a plate of oatmeal, which she subsequently said, "I think it's oatmeal," breaking one of the very few rules of the game. Her husband told her he "couldn't work under these conditions," before receiving a plate of his own.
Unfortunately for him, he got an entire plate of ketchup to dip his face in. "OK, you put it in a hotdog and hamburger and french fries," he said. "Mustard," Bell screamed, which is not the right answer and also, who puts mustard on french fries? She eventually got to the right answer, but not before Shepard covered his facial hair in ketchup, which, ew.
The duo have been making the daytime talk show rounds promoting their new wallet-friendly, planet-friendly baby product line called Hello Bello. "As a mom of two, I know how beautifully messy parenthood can be, and that's why we created Hello Bello — a line of premium, super effective baby care products to take care of your kids from head-to-butt-to-toe," says Bell. "Our products are fresh and fun. More importantly, we use plant-based ingredients and organic botanicals that are better for our kids and better for our world."
When they aren't acting, being extremely philanthropic, or saving the planet, the couple are parents to two little girls, Delta, age four, and Lincoln, five. Though they're fiercely protective of their daughters, they're regularly open about the ups and downs of parenting. Because they're so funny, they can even make even the downs seem awesome, which we all appreciate.
https://www.instagram.com/p/BsKFpgfDbhg/
The couple eventually makes it through Ellen's game, after some pause with Cheetos, they nail popcorn, iceberg lettuce and a banana, and Bell only threw her wedding ring once, so it was a wild success and so very hysterical to watch.
They did all this to raise money for the Prostate Cancer Foundation. Thanks to Shutterfly, for every answer they guessed correctly, the foundation received $1000. At the end of the day, they raised $10,000 and the world forgot all of their problems for a brief moment in time.