Kristen Bell And Dax Shepard Had The Most Extra 'Game Of Thrones' Party
by Valerie Williams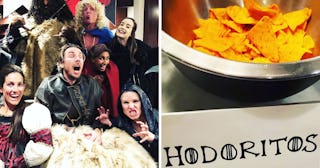 Kristen Bell via Intsagram
Kristen Bell and Dax Shepard threw a Thrones-themed shindig to remember
If you thought you celebrated the heck out of the premiere of the final season of Game of Thrones, Kristen Bell and Dax Shepard were all "hold my Hodoritos." The always extremely fun couple got some friends together to ring in the first episode of the eighth season and the party was complete with themed foods and hilarious costumes.
Basically, you'll finish looking through these pics and end up super sad you weren't invited — but it's also great inspiration for future Thrones get-togethers.
Bell shared the snaps with the caption, "Maximum effort on #GOT night. FOR THE THRONE!!" And she's not kidding on the "maximum." Peep these insanely good costumes. Dax is the perfect Bran, even rolling his eyes back to Warg into who-knows-what, Bell is a dragon, and their cast of buddies round out the rest of this crew.
I mean, look at them. Their friend Amy Hansen is playing a weirdly smiley Talisa (weird considering she just got stabbed in the pregnant belly) and her husband Ryan is playing Robb Stark. I believe we have a Melisandre in there and a Khaleesi. It's just too good.
But it was Bell as one of Dany's dragons who truly committed to her role. It looks like we have some ice-blue contact lenses.
Along with a fierce pair of wings and matching "don't mess with me" expression.
But the best part? The tiny Dany hanging from her back. We die.
The costumes weren't the only enviable aspect of this medieval celebration. We know the North will totally remember these Arya's House of Frey pot pies for the rest of time. If you don't know what scene this references, maybe that's for the best if you happen to be eating while reading this. Shudder.
Though we don't exactly know what's in this mystical crockpot with the label Dragon Slop, we'd wager that it's pretty tasty.
Even HBO was impressed commenting, "Hordoritos are everything." Honestly, they really are.
The party was so good that Bell couldn't resist wearing the costume the following morning on the set of The Good Place.
So you're either suffering a severe case of FOMO right now or you're totally inspired to throw your own Thrones-themed viewing party. Only a few episodes remain, so you best get on it. I'm ordering my dragon costume and searching out Dragon slop recipes right now.