Kristen Bell & Dax Shepard Hilariously Mock Tabloid Report On Their Marriage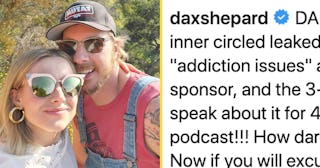 Kristen Bell/Instagram and Dax Shepard/Instagram
Kristen Bell and Dax Shepard's marriage is fine, and the tabloid that said otherwise is getting hilariously put on blast
Being a married celebrity has got to be tough. While A-listers are just trying to live their lives through all the ups and downs that come with being in a long-term relationship or having a family, they're under constant scrutiny from tons of people who know nothing about their lives or their marriage. Talk about stressful. Thankfully, we have Kristen Bell and Dax Shepard to teach us the only appropriate way to handle it when a stranger throws shade at your marriage they know nothing about.
https://www.instagram.com/p/Bzy2WqBnXWR/
Shepard and Bell are one of our favorite Hollywood couples for a billion different reasons, but very high on that list is how open they are about their marriage and life as famous parents. Specifically, they don't shy away from talking publicly about how all this shit is really hard. Parenthood is hard. Marriage is hard. It all takes a ton of work, and Shepard and Bell are also very open about their decision to attend couple's therapy on the regular in order to make sure all their hard work is productive and keeping their marriage as healthy as possible. Seriously, #couplegoals.
So, when Life & Style magazine reached out to Bell and Shepard recently, asking them to comment for a story they were planning to run about the couple's marriage problems, well, our fave Hollywood couple didn't take it lying down.
"Sources tell Life & Style that Kristen and Dax have had problems in their marriage, including Dax's addiction issues, but that they're very happy now and are determined to make their marriage work," an email from the magazine read in a screenshot Shepard posted on Instagram.
So, um, LOL duh. That is the most hilariously vague thing to write a story about ever. They've had problems in their marriage but are happy? Find us one single couple on this planet that has never had problems in their marriage despite being happy. We'll wait.
For the record, Shepard, who has been sober now for 14 years, has been open about his past history of addiction and his struggle to overcome it. In fact, Bell sweetly celebrated the 14-year mark with an Instagram post in which she said she was "in awe" of her husband.
Shepard and Bell definitely could have just ignored this one, but instead, they thought of some A+ responses.
First, Shepard wondered who had leaked this very salacious story to the press.
And then Bell slid into the comments section to admit that she did it.
And to give Shepard a suggestion for how to respond.
Never change, you two.
This article was originally published on