Kristen Bell And Dax Shepard Have A Pregnancy Scare, Dax Responds Accordingly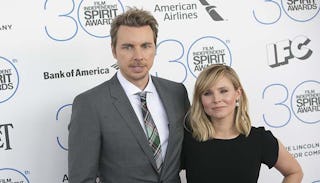 Image via ADRIAN SANCHEZ-GONZALEZ/AFP/Getty Images
Dax Shepard gets a vasectomy after he and wife Kristen Bell have a pregnancy scare
Ah, the seasons of life. You spend the first portion of your adult life trying not to get pregnant. Some of us then transition to a time when we are trying everything under the sun to make a baby happen. And if those babies do happen, eventually some of us will return to that first self, trying desperately not to get knocked up again.
RELATED: How Much Does A Vasectomy Cost, And How Does It Compare To Getting Your Tubes Tied?
It's a relatable story, and one that celebrity parents Kristen Bell and Dax Shepard experienced last year. Shepard was on Jimmy Kimmel this week, and he recounted an experience he and Bell had last year — when after a week of being sick she came to the conclusion that she must be pregnant.
"Last year, my wife was working in Atlanta," he explained to Kimmel. "We were there and she all of a sudden goes, 'Oh, my gosh! I'm so stupid. I've been sick for 10 days and ignoring it. I'm definitely pregnant.'"
He kind of freaked."We're going to turn into 'Jon & Kate Plus 8' or something," he remembers saying. "We already have no life! This is going to be not worth living." Now, before anyone gets all up-in-arms about this — there are plenty of us who can relate. After a few years of sleepless nights and not actually trying for a baby, you can forget it's even a possibility. Until you're reminded. By a pregnancy scare.
"It was so bad," he told Kimmel. "That was Tuesday and she had to work, so for eight hours we didn't get a pregnancy test. For eight hours, I was like imagining my life with all these kids. That was Tuesday. I flew home Wednesday for a meeting. Thursday morning I had a vasectomy."
Kudos to a man taking it into his own hands. And quickly.
"Is two a lot harder than one?" Kimmel asks. "Exponentially so," Shepard replies. "Because when you have one you still have a two hour nap hopefully… and then they go to bed two hours before you so you have a straight four hours. When you have two, there are no hours. It's just them. From sunup to sundown. It's over." Kids are overwhelming and everyone has their limits. Unfortunately, according to Shepard, his wife wasn't thrilled:
"Kristen was not thrilled that I did it so quickly," he said. "But I'm a man of action!"
This article was originally published on