Kristen Bell And Dax Shepard's New Line Of Baby Products Is Everything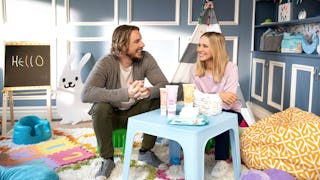 Image via Benjamin Hart (Brains On Fire LA)
Kristen Bell and Dax Shepard have a new line of baby products that are both budget and planet-friendly
We love Kristen Bell and Dax Shepard, full stop. They're parenting and marriage goals, and also, beyond talented and hilarious. That's why when we heard they were the co-founders behind a new line of plant-based, high-quality, budget-friendly baby products called Hello Bello, we had to check it out.
RELATED: 8 Mom-Approved Organic Baby Detergents That Are Gentle Enough for the Entire Fam
"As a mom of two, I know how beautifully messy parenthood can be, and that's why we created Hello Bello — a line of premium, super effective baby care products to take care of your kids from head-to-butt-to-toe," says Bell. "Our products are fresh and fun. More importantly, we use plant-based ingredients and organic botanicals that are better for our kids and better for our world."
Check out some of the line's items, all of which are available on Walmart.com and shipping for free.
Let's face it — the first few years of your child's life, you're staring at a whole lot of diapers. They might as well be totally trendy and cute, right? The patterns for Hello Bello diapers simply slay. We're especially in love with the "Arrows Up" and "Sleepy Sloths" designs, but there are plenty of others to choose from.
And what's a diaper without wipes? Hello Bello wipes are hypo-allergenic, pH-balanced, fragrance-free, and super soft. They're perfect for your baby's sensitive skin and the hip packaging doesn't hurt one bit.
After a whole day of diaper changes, baby definitely needs to freshen up. Enter Hello Bello's Shampoo/Wash. It comes in Lavender and Vanilla Apricot scents and promises to keep baby clean with its gentle, plant-based, hypo-allergenic formula.
If your little one is in need of some pampering (and honestly, who isn't?) you can help them relax with some Hello Bello Bubble Bath. It comes in a soothing lavender scent that might even get them to sleep through the night, but don't quote us on that.
After that bath, what's better than a sweet-smelling (and plant-based) lotion to help your tiny tot's skin to stay nice and soft? Hello Bello lotion comes in Vanilla Apricot and Lavender in case your baby's scent wasn't intoxicating enough on its own.
Hello Bello even has you covered for when diaper rashes show up — check out their soothing rash cream. The natural formula promises comfort on contact so your baby can feel instant relief from those nasty bumps.
We're not sure what we love more about Hello Bello's Laundry Detergent — that it's unscented and hypo-allergenic or that it promises to be gentle on clothes while giving them a deep clean. Oh, and the adorable packaging is always a plus.
So say "goodbye bad stuff" and get your baby some safe, natural, Hello Bello products. And watch Kristen and Dax's hilarious videos about their new line while you're at it.
We may earn fees from purchases made via links on this page and affiliated sites. All opinions are our own.
This article was originally published on