Kristen Bell Leaks Her New Song And Some Unseen Footage From 'Frozen 2'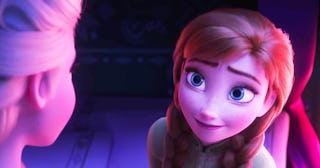 Walt Disney Animation Studios/Youtube
Kristen Bell shared a quick glimpse of Frozen 2 accompanied by a never before heard song from the film
Frozen 2 is nearly here and Kristen Bell has fans of the first film more than a little excited. The actress has been dropping teasers via Instagram over the past few months but until now, we hadn't heard much of music in the film. This video shows a bit of eerie footage along with a new mysterious sounding song sung by Bell herself.
Bell's character, Princess Anna, can be heard singing a song from the movie in the same beautiful voice we learned Bell had in Frozen. No doubt, this song will be stuck in our heads for about the five years or so, so while this is our very first taste of the Frozen 2 soundtrack it is absolutely not our last. At least, if this sequel pans out to have little fans half as captivated as the first film. Whether you're excited for that fate or not, trust us, it's coming.
Bell captioned the post, "A sneak peak of my new song in Frozen 2, 'The Next Right Thing'."
In the video, we see Princess Anna leaping over rocks while Bell sings, "Just do the next right thing, take a step, step again, it is all that I can, to do the next right thing," plays in the background. It's a very brief glimpse of the film, but the song sounds totally sing-along-able. Surely, you'll know all the words in no time at all. You better believe it.
The trailer for the film was released back in June, so we already know a little bit about the movie itself. In Frozen 2, it seems like Elsa's magical ice powers (which cause a whole lot of drama in the first film) might be the key to saving the kingdom this go-round. It looks even more action-packed than the first, too.
We also know that all our favorite characters will be back again— Elsa, Anna, Kristoff, Olaf, Hans, and Sven. And of course, Bell won't be the only one singing. We're bound to hear from more Idina Menzel, too. New characters will show up in Arendelle, as well, like Lieutenant Matthias, who will be voiced by Sterling K. Brown, who sings in the movie, too. Anna and Elsa's mother, Queen Iduna, who is shown in a flashback scene, will be voiced by Evan Rachel Wood.
People are definitely thrilled that the new film is almost here. Well, some more than others.
Frozen 2 comes to theaters on November 22nd with the full soundtrack dropping the week before on November 15th. So, fans will have to wait until then to hear the full-length song. Once it's here, though, we'll never be able to unhear it. All we're saying is, definitely get excited, but maybe count your blessings.