Kristen Bell Proves Her Kids Keep Her 'Grounded' In Hilarious Instagram Post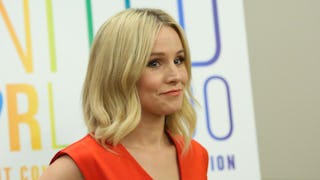 Image via Paul Archuleta/Getty Images
Bell proves even in real life, Anna is living in Elsa's shadow
Kids are experts when it comes to brutal honesty and letting us know what kind of job we're doing as parents. They will always keep you humble, that's for sure. Even if you're a celebrity, you're not immune to the reality checks kids give us on the regular — just ask Kristen Bell.
Bell — who, as everyone knows, voices the lovely Anna in Disney's Frozen — shared a hilarious photo on Instagram that shows what her two daughters really think of their mom's iconic princess character.
Poor Anna. She has to spend eternity living in her sister Elsa's shadow as it is, and now she has to do it headless.
"This will be the cover of my autobiography and it will be titled 'My children keep me grounded,'" she captions in the photo. Bell and her husband Dax Shepard have two little girls: Lincoln, four, and Delta, two. Perhaps they were acting out their own sisterly skit when poor Anna bit the dust?
This isn't the first time Bell's kids have kept her ego in check. Earlier this year for Halloween, their elder daughter Lincoln made her mom dress up as a Frozen princess for Halloween.
Just not the one you would assume.
"When your daughter demands you BOTH be ELSA for Halloween…you GRIN AND FORKING BEAR IT," she wrote. What we don't do for our kids, right? LOL. Bell has said her daughters aren't as "into" Frozen as the general population seems to be, and maybe she's right!
Most likely her kiddos just don't understand or necessarily care what their mom and dad do for a living. They'll appreciate it in time, no doubt. What kid wouldn't love having a bonafide Disney princess living in their house who also happens to be their mom? Come on now, that's just really forking cool.
Regardless, if Kristen Bell is planning to pen that memoir anytime soon — moms everywhere would be lining up to buy it in a heartbeat.
This article was originally published on