Good Morning, Upper East Siders! Kristen Bell Will Return For 'Gossip Girl' Reboot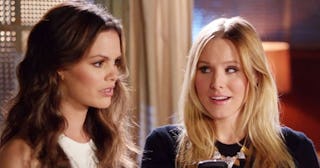 The CW
XOXO, Kristen Bell
Greetings, Upper East Siders. There's more gossip out of HBO Max about its upcoming Gossip Girl reboot, and fans of the original series are gonna love this: Kristen Bell is officially set to return to narrate the show and voice Gossip Girl.
In a statement, the show's producers showed that they fully understand how we feel.
RELATED: 100+ Good Morning Messages And Texts To Start Each Day The Right Way
"Kristen Bell has always been and will always be the voice of Gossip Girl," they said.
We're not gonna lie, we were worried for a minute that the reboot would happen without Bell doing her iconic voiceovers. The fact that we know so little about the concept of the reboot didn't help with our fears. In the original series, Gossip Girl was a blog and the occasional SMS update, but in the reboot, which will be set in present-day New York, those technologies are so out-of-date, Gossip Girl wouldn't dare. How do those voiceovers fit in with the way we spread information today, like TikTok and Snapchat?
But clearly the show's writers plan to figure that out, because Bell is officially part of the new cast. Now we just need Blake Lively, Leighton Meester, Ed Westick, and Penn Badgley back, please and thank you.
It's unlikely those four, the original stars of the show, will be returning, since they're all pretty busy with other things these days. But with Bell back to serve as the omniscient narrator who exposes the secrets and lives of the elite and dramatic cast, we'll gladly take a new set of teens. And anyway, the reboot is set eight years after the original Gossip Girl was exposed, so it's time for a new group of Upper East Siders for us to get fully invested in. Who knows, maybe the reboot will even get a hip new setting. Gossip Girl in Brooklyn? We can see it.
The reboot was long-rumored before it became official. CW president Mark Pedowitz said at the Television Critics Association earlier this year that there was no way the show would return without its original writing and producing team of Joshua Safran, Josh Schwartz, and Stephanie Savage on board. They signed on, and now so did Bell, and we have a feeling that's going to be enough of a tie to the original series for us to love this reboot just as much as we loved the original.
We'll miss following the salacious antics of Blair, Serena, Chuck, and Dan, but we're pretty excited to see what havoc Gossip Girl can wreak with a new cast in a completely different, more technology-driven world. XOXO, Gossip Girl.
This article was originally published on