Kristen Bell Promises To 'Stand By' Dax Shepard After His Relapse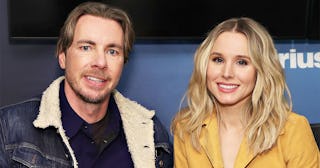 Cindy Ord/Getty
"I will continue to stand by him because he's very, very worth it," Kristen Bell said in her first interview since husband Dax Shepard's relapse
Last month, Dax Shepard shared the news on his podcast that after 16 years of sobriety, he had relapsed and begun abusing opioid painkillers. In the podcast, he revealed that he eventually came clean to his wife, Kristen Bell, and asked for help. Now, she's speaking out for the first time about the relapse.
In an interview with Ellen DeGeneres, Bell gave an update on how Dax is doing, and said that they're committed to continuing to move forward together.
"He is actually doing really great," Bell said. "Everybody is up against their own demons. Sometimes it's anxiety and depression, sometimes it's substance abuse."
She continued, "The thing that I love most about Dax is that he was able to tell me and tell us and say, 'We need a different plan.' We have a plan — if he has to take medication for any reason, I have to administer it. But he was like, 'We need a stronger plan.'"
Shepard had revealed on his podcast that the relapse happened after he was in an ATV accident and was prescribed Vicodin for his pain. He started out just taking the pills as needed (and as Bell administered them), but he soon spiraled out of control. Within a few months, he said, he was buying opioids on the street and taking them all day.
"After I ride sometimes on the track, I feel I'm entitled to take two Vicodin at the end of the day because I am in pain," he said. "For the last eight weeks … I'm on them all day. I'm allowed to be on them at some dosage because I have a prescription, and then I'm also augmenting that. And then all the prescriptions run out, and I'm now just taking 30 mil Oxys that I've bought whenever I decide I can do [it]. I'm lying to other people, and I know I have to quit. I know that's an amount that's going to result in a pretty bad withdrawal. And I start getting really scared, and I'm starting to feel really lonely. And I just have this enormous secret."
Despite it all, though, Bell revealed in her interview that she and Shepard are still completely committed to working through things and keeping their family together.
https://www.instagram.com/p/BnNH_J3lYlM/?utm_source=ig_embed
"He was like, 'I don't want to risk this family and I did, so let's put new things in place to make sure it doesn't happen again.' We're going back to therapy," she said. "I love that he's addicted to growth."
Bell added, "I will continue to stand by him because he's very, very worth it."
https://www.instagram.com/p/CBuMP_FJFb1/?utm_source=ig_embed
We wish nothing but the best for this sweet couple, their family, and their health.