Kristen Bell And Jimmy Fallon Perform Epic 5-Minute 'History Of Disney Songs'
by Valerie Williams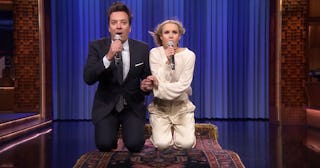 The Tonight Show Starring Jimmy Fallon/Youtube
Kristen Bell and Jimmy Fallon's 5-minute medley somehow perfectly captures the last several decades of Disney movies
There's only 10 more days of waiting before we get to see Kristen Bell reprise her role as Anna in Frozen 2, but until then, we have something fun to tide us over. During an appearance on The Tonight Show, the singer-actress and host Jimmy Fallon performed a 5-minute medley of iconic Disney tunes from everyone's favorite movies (now available to view on Disney+ for just $6.99/month). And if it doesn't put a giant smile on your face, nothing will.
Covering parts of 17 Disney songs in only five minutes, the pair pretty much killed it. And if you weren't already aware of Bell's serious vocal chops, prepare to be blown away. She's freaking flawless, y'all. They started things off with "When You Wish Upon a Star" including Bell hitting all those high notes. Not to labor the point, but this woman can sing.
The duo then swiftly moves into an upbeat "Supercalifragilisticexpialidocious" from Mary Poppins, "Heigh Ho" from Snow White and the Seven Dwarves and "Bare Necessities" from The Jungle Book. They even work in a little choreography to keep it spicy.
Of course, Bell's appearance on the show was to promote the upcoming sequel to the 2013 smash hit Frozen. In her performance with Fallon, Bell handily proves that Anna's not the only Disney Princess under her belt – in fact, she could basically be any of them.
Her Jasmine was particularly entrancing.
Oh, and Princesses weren't the only Disney history these two touched on – The Lion King got its moment in the sun too with Bell whipping out a Simba stuffed animal before the two broke into a sweet rendition of "Can You Feel the Love Tonight."
They should probably just remake every Disney movie together, TBH.
From The Little Mermaid (her rendition of "Part of Your World" needs to be on Spotify immediately) to Toy Story to Mary Poppins, they didn't miss a beat.
During a recent appearance on Good Morning America, Bell shared that her two little girls have already seen the film – and they're definitely fans. "I remember a specific moment towards the end where something happens, and my 4-year-old, she had her knees up and she had her hands towards the screen like she was in the southern Baptist church … then something happens and she just went, 'Oh, my god!' And I was like, 'Nailed it!'"
However, they'd probably be slightly more impressed if one of the most popular characters in Disney history were someone other than their mom. "They loved 'Frozen' but don't like the fact that I'm in 'Frozen.' I think it's in your DNA to reject your parent, right?" Bell jokes.
Fallon and Bell wrapped their adorable duets with the classic "Let It Go" and Bell proving she probably could've played both Elsa and Anna (no disrespect to the amazing Idina Menzel, of course). This only makes us 100 times more excited for Bell's return to the Frozen landscape on November 22nd.
This article was originally published on