Kristen Bell Saves Frozen Co-Star's Family From Hurricane Irma Because She's The Best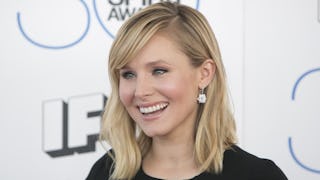 Image via ADRIAN SANCHEZ-GONZALEZ/AFP/Getty Images
With the storm touching down in Florida, Kristen Bell lends a helping hand to a friend in need
Ahead of Hurricane Irma touching down and wreaking havoc on the state of Florida, Kristen Bell helped out her Frozen co-star's stranded Florida family find safety.
Bell, who is in Florida for work and was unable to leave in time before the hurricane struck, decided to make the most of her time there by lending a helping hand where needed. Because she's the best.
"We didn't have the option to leave so here we are," Bell captioned on Instagram earlier this week. "Just doing our best and trying to stay positive but cautious, and trying to help those who need help prepping." She applauded the Swan Dolphin Disney resort for helping everyone feel safe.
The family of Josh Gad, the voice behind Olaf in Frozen, was stranded in Florida and unable to evacuate in time. Enter Kristen Bell, who gave us one more reason to think she's the bee's knees by helping out her co-star and friend's family in their time of need.
We can imagine the fear those with loved ones in Florida are feeling right now. Evacuating isn't as easy as just getting up and leaving– think of the hundreds of thousands of people living in the path of Irma. That means gridlock traffic days in advance and sold out flights. Not everyone who will be affected is able to leave their homes, even if they desperately want to.
According to Gad, his parents, brothers, sister-in-law and niece and nephew were all stuck with nowhere to go until Bell stepped in.
He said Bell "literally saved my parents and my entire family tonight from #hurricaneirma" by getting the whole Gad family a hotel room at her hotel in Orlando.
Of Bell, he writes "You are truly an angel sent from above."
We love everything about Ana helping Olaf's family during their time of need. We hope everyone in Florida is staying as safe as possible during this storm.